Rio 2016: Dungannon man Phillip Eaglesham 30th in rifle prone qualifying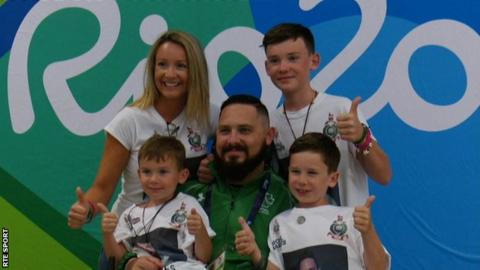 Rio Paralympic Games
Venue: Rio de Janeiro Dates: 7-18 September Time in Rio: BST -4
Coverage: Live updates, video clips, medal table, results and news alerts, catch-up service, plus commentary on BBC Radio 5 live. Television coverage on Channel 4.
Dungannon's Phillip Eaglesham missed out on a place in the rifle prone final at the Paralympics after finishing 30th in qualifying on Tuesday.
The Royal Marine needed a top-eight finish to progress to the final but his score of 626.3 didn't prove sufficient.
Eaglesham was competing six years after contracting an illness while on duty in Afghanistan which eventually left him wheelchair bound.
Ukraine's Vasyl Kovalchuk set a Paralympic record score of 637.1.
Father-of-three Phillip was on his second tour of duty in Afghanistan when he contracted Q Fever, which is caused by a rare airborne bacteria.
Two years ago, Somerset-based Phillip thought seriously about taking his own life and he says his involvement in shooting has played a huge role in boosting his morale.
"For me a couple of years ago, it was probably the darkest time of my life. So to turn that round in two years and show the kids that no matter what happens, you can always go on to bigger and better things is something pretty special," he added.
After first competing in disabled shooting competitions in 2012, Phillip secured qualification for the Paralympics with a high placing at the World Cup event in Thailand in March.
"It has been a whirlwind experience from getting selected. If we can inspire one or two people to do something great in their lives, that that's what it is all about," adds Phillip, whose condition means that he is restricted to four one-hour practice sessions a week.
The county Tyrone man had mixed feelings after missing out on the final.
"My first international event was last October. It has not even been a year (since then) so to even be here was great," added the 34-year-old.
"But I'm disappointed at the same time because I know I can hit the scores to put me up there. I maybe talked myself myself out of it.
"You're talking about trying to hit something that is the score of a full stop. It's 0.05 of a milimetre. When you put it on the screen it looks massive but it's tough.
"But we're here. We're in the Paralympics. I'm a Paralympian. I can't be upset."