Michael McKillop set for Swansea Europeans after injury woes
By John Haughey
BBC Sport NI
Last updated on .From the section Disability Sport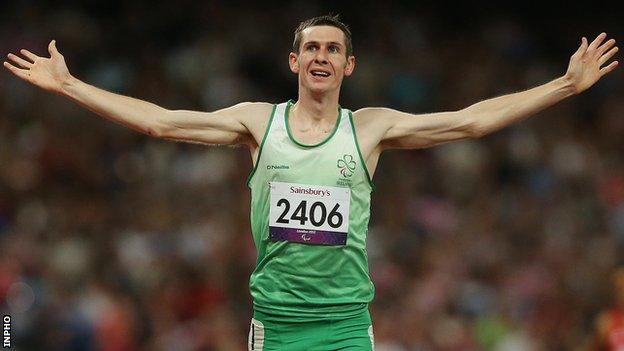 London 2012 Paralympics hero Michael McKillop says he is on course for the IPC European Athletics Championships despite an injury-affected nine months.
A foot injury had kept the Northern Irish middle distance runner out of action until two weeks ago but he expects to compete in Wales.
"I think I've enough time to be ready for mid-August," said McKillop, who has a mild form of cerebral palsy.
"Swansea is like another home games so I really want to be there."
McKillop's injury problems arose as he attempted to resume training following his summer break after winning two gold medals at last year's IPC World Championships in Lyon.
"After about three or four days of running I got severe foot pain in the left side and I went to the physio at the Sports Institute of Northern Ireland.
"They had a look at it and thought I would be out for a couple of weeks. But they didn't really know where the pain was coming from and recovery ended up taking a lot longer."
Eventually, McKillop was sent to see a foot specialist in London and after the injury was finally diagnosed, a month in a compression boot was followed by over six more months of rehab spent almost exclusively at the Sports Institute near Belfast.
"I was pretty much living in the Sports Institute from September until about a month ago. In every day, getting treatment, going into the gym, strengthening my foot and working on my upper body because I couldn't run.
"I was aqua jogging and, while that and cross-training has helped me get back running, I need to get track fit and that will take a couple of weeks."
McKillop acknowledges that he found it difficult to come to terms with his first real protracted period of injury in a relatively short athletics career.
"I had never been out for more than a month. It got depressing and I was not in a good place at times but I pulled through after a lot of support from friends and family."
The Glengormley man says that his involvement in visiting schools as an athlete mentor as part of the Sky Sports Living for Sport programme also helped keep his spirits up during his injury spell.
"They see me as an inspiration for kids so I've been asked to go around schools and tell my story and try and teach them a few sporting values.
"Hopefully I have inspired a few kids to maybe look at sport as a means of changing their own lives and also maybe looking at Paralympic sport as well.
"And during the period of injury, it got me into a routine, been able to go into schools and meet a lot of young kids who have so much potential in sport and art and education. I learn stuff from the kids every single time I go into the schools."
However, McKillop's main focus now is getting himself right for the Swansea championships which take place on 18-23 August.
"I've got a month or so on the track to try to get fit enough and sharp enough and then start really hard sessions.
"Hopefully after a couple of sessions, I'll be back doing a couple of British Milers Club or Irish Milers Club races. Probably, my first races will be mid-July and I'll race myself fit in a way.
"It's kind of a home Paralympics athletics event. And while we did have London 2012, It's not often you get them that close to your home.
"There is going to be more family support and friends that can come and watch.
"I guess I can look forward to the heat of Doha and the World Championships next year."