Bethany Firth: Swimmer switches from Ireland to Great Britain
Last updated on .From the section Disability Sport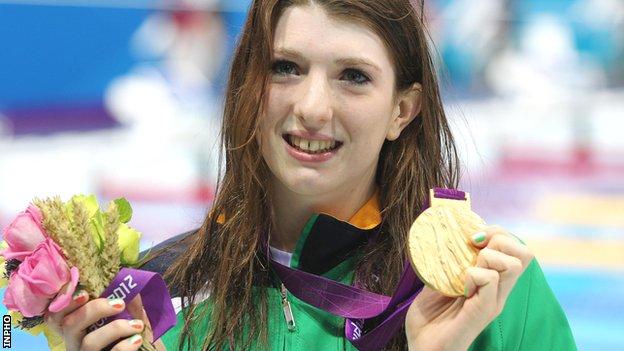 Paralympic gold medal-winning swimmer Bethany Firth has switched allegiance from Ireland to Great Britain.
Firth's request to compete for Great Britain has been approved by the International Paralympic Committee.
"We would like to express our gratitude to her for all that she has achieved in her time competing with Team Ireland," said Paralympics Ireland.
Firth followed up her Paralympic gold by winning three silver medals at the IPC World Championships in Montreal in August.
"It is always a moment of great pride for Team Ireland when the athletes in whom we have invested so much energy, time and training achieve such great results as those achieved by Bethany," added Paralympics Ireland.
"Bethany's progress under the Paralympics Ireland High Performance Swimming Programme since joining us serves as a shining example of the potential within us all to achieve greatness.
"Bethany was one of the success stories of London 2012 for Team Ireland, winning as she did our first gold medal of the Games. We have no doubt that she would have delivered further success and been an exemplary role model for Team Ireland over the next three years and beyond.
"Ultimately this is a personal decision for Bethany and we wish her all the very best in the future."