Jody Cundy says para-cycling suffering from lack of events

By Andy Swiss
BBC sports news correspondent
Last updated on .From the section Disability Sport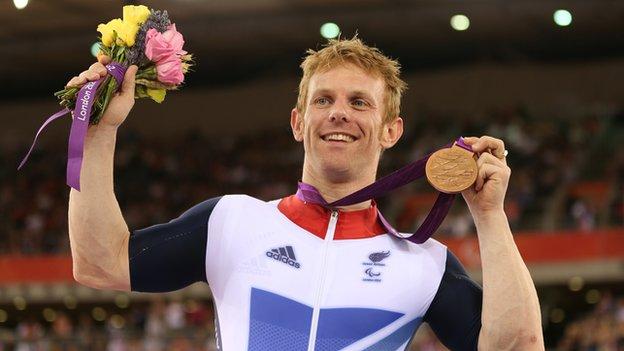 Track para-cycling is almost in "the dark ages" as the sport prepares for its first international meeting since London 2012, says British Paralympic star Jody Cundy.
Despite its popularity at last summer's Paralympics, there have been no major track competitions since London, where Cundy won bronze in one event and was controversially disqualified from another.
"We've gone from the absolute pinnacle of sport that we could ever imagine to almost the dark ages," said Cundy, who is among those participating at this weekend's three-day Newport International Cup meeting.
"We've gone from one extreme to the other."
Cycling's world governing body, the UCI, is responsible for organising international para-cycling events. But it is yet to confirm any other track meetings before the next Paralympics in Rio, including the dates of next year's scheduled World Championships.
Countries must pay the UCI thousands of pounds for the right to host international track para-cycling events.
Cundy said: "No-one's stepped forward to put any events on because the fees are too expensive, and there doesn't seem anyone willing to organise it.
"Knowing you've got no races, you've got to set your own goals - like a personal best in training - but it's not as motivating as riding for a medal or a jersey."
Cundy, 35, said it is difficult to inspire a new generation of track para-cyclists if there are no events for them to watch.
And he added: "You've also got the problem that all the guys we did inspire have got no races to test themselves against the best in the world, and see how much they need to improve.
"There's a lot of athletes coming through that maybe their first competition will be the Paralympic Games in Rio. Sometimes you just need a smaller event when everything's not do-or-die to test a few things and learn how it feels to be at a big event."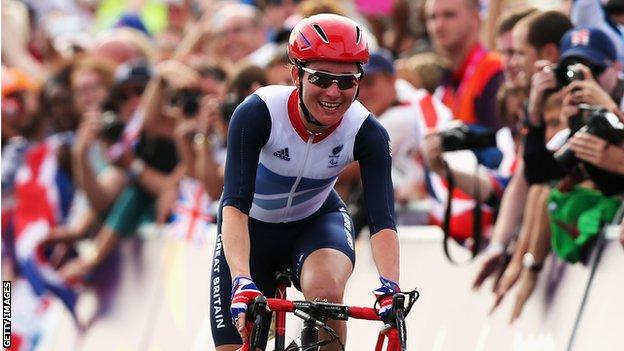 Dame Sarah Storey will make her comeback in Newport, just five months after having her first child. Despite her extended break from the sport, though, she has not missed any meaningful competition.
"The legacy of the London Paralympics was huge within the UK," she said. "But the impact around the world clearly hasn't been as great as we'd hoped, because no-one's come forward to host these events."
The 36-year-old also says the lack of communication from the UCI has made life difficult for many track para-cyclists.
"We're not talking about full-time athletes who can suddenly drop everything and travel somewhere," she said. "Many have jobs, and they need to be able to plan their leave around the events. "
Other disability sports, including athletics - which has introduced a Grand Prix series, have seen an increase in the number of competitions since London.
The UCI insists it would also like more events, but that host countries simply have not come forward.
Indeed its Paralympic representative Mohamed Belmahi said: "The UCI wants to develop para-cycling around the world."
But the lack of opportunities has left some of the Paralympic movement's biggest names - like Cundy - deeply frustrated.
"It's now about rebuilding the sport and trying to get it back to where it was at those heights in London.
"We can only hope people realise that we do actually want to race, and we don't just do this for fun."