Jason Smyth undecided on Tyson Gay training camp return
Last updated on .From the section Disability Sport
Ireland's Paralympic double gold medallist Jason Smyth is unsure about returning to the Florida training camp he shared with Tyson Gay.
Former world 100m champion Gay tested positive for a banned steroid during United States trials in June.
Smyth won 100m and 200m gold in Beijing and London but says he has some "family considerations" to weigh up before deciding whether to remain in Florida.
"I am still figuring out what is best for me," said the 26-year-old.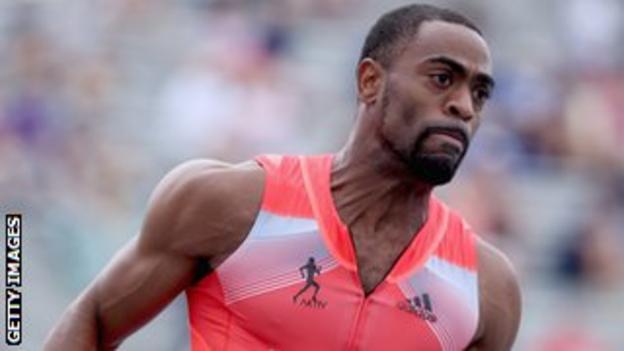 "You can only be sure of what you do yourself and what you put into your own body.
"I'm comfortable about things and how I go about trying to be the best I can be. You cannot worry about other people because that is a distraction."
Smyth, who has a visual impairment, has not competed since winning double gold at the IPC Athletics World Championships in Lyon in July.
As well as making a decision on whether to resume training under coach Lance Brauman this winter, the Eglinton athlete is also targeting next summer's Commonwealth Games in Glasgow having missed Delhi 2010 with a stress fracture in his back.
"The Commonwealth Games are massive in Northern Ireland and I was disappointed to miss them in India," he said.
"It makes me even more hungry to be part of it this time round and it is not very often we get the opportunity to compete for Northern Ireland.
"A bit like London last year, [Glasgow] is home and the support and media exposure are going to be big."
Smyth's other big events in 2014 are the International Paralympic Committee European Athletics Championships in Swansea and the European Athletics Championships in Zurich.
The Londonderry man was speaking at the launch of Vision Sports Ireland in Dublin - the new name for the Irish Blind Sports Association.