GB paratriathletes take 12 medals at European Championships
Last updated on .From the section Disability Sport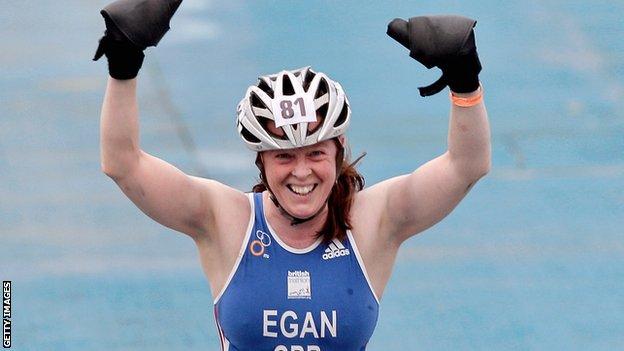 Great Britain's paratriathletes won 12 medals, including six golds, at the European Championships in Turkey.
Jane Egan won gold for the fourth consecutive year, while Sarah Pearson, Lauren Steadman, Phil Hogg, Melissa Reid and David Ellis also won their events in Alanya.
Clare Cunningham, Steven Judge, Charlotte Ellis and Iain Dawson won silver medals.
Joe Townsend and Haseeb Ahmad took bronze medals at the championships.
Egan is now setting her sights on the Olympics in Brazil in 2016 and she told the European Triathlon website: "I'm really pleased. It's nice to keep the title - I think I've had it since 2010. For the first time ever, I think I had a really good swim and I enjoyed my swim.
"The long-term goal is selection for [the Rio Paralympics in] 2016 but obviously we have to continue to perform and improve and be selected for the squad each season."
Hogg was competing in a triathlon for the first time and beat last year's champion, Spaniard Francesc Sola Garcia, by one minute 51 seconds.
He said: "It's emotional. I can only thank my coaches and my family and I can't thank them enough for getting me here.
"I was thinking on the third or fourth bike lap that I had a chance but I knew I had to keep on the gas and keep racing."
GB's took their largest ever team to the championships, consisting of 17 athletes and five guides.
Great Britain Paratriathlon Squad, ETU European Championships medallists:
Tri-1 - Phil Hogg (gold), Joe Townsend (silver), Jane Egan (gold); Tri-3 - Steven Judge (silver), Sarah Pearson (gold); Tri-4 - Clare Cunningham (silver), Lauren Steadman (gold); Tri-6 - Haseeb Ahmed, (guided by Ben Matthews, bronze), Iain Dawson (guided by Carl Shaw, silver), David Ellis (guided by Luke Watson, gold), Charlotte Ellis (guided by Jenny Manners, silver), Melissa Reid (guide TBC, gold).