Paralympics: GB Sonar crew miss out on bronze
Last updated on .From the section Disability Sport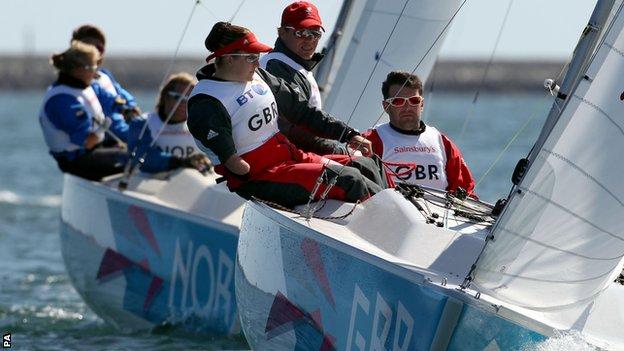 Great Britain's Sonar Crew have failed in an appeal against a points penalty that cost them a bronze medal at the London 2012 Paralympics.
The Court of Arbitration for Sport ruled that a decision to impose a four-point penalty during the competition should stand.
It said it could not review a matter which was concerned with the 'sport's technical rules'.
Crew member Hannah Stodel has told BBC Essex they have accepted the decision.
She said: "Obviously, we are disappointed. We are pleased that our governing body, the RYA (Royal Yachting Association), and the British Paralympic Association supported us all the way through.
"They believed we were right, we still believe were right. We just want to move on."
The discretionary penalty was imposed after British team bosun Simon Hiscocks cleaned the port side of the keel after being authorised to lift the boat out of the water to inspect some damage.
The penalty meant the crew of John Robertson, Stephen Thomas and Stodel, finished fifth in the event, three points behind Norway, who claimed bronze.
Stodel added: "We're not doing this just to have that silverware, we need to know that we are good enough at our jobs.
"And we are good enough. that's the bottom line. We were good enough during the regatta to get that medal."
A statement from the RYA said: "We respect the arbitrator's decision and will move forward in the hope that all parties involved will learn lessons from the events that took place."