Jonnie Peacock, star of the Paralympics, excited by return
By Andy Swiss
BBC sports news correspondent
Last updated on .From the section Disability Sport0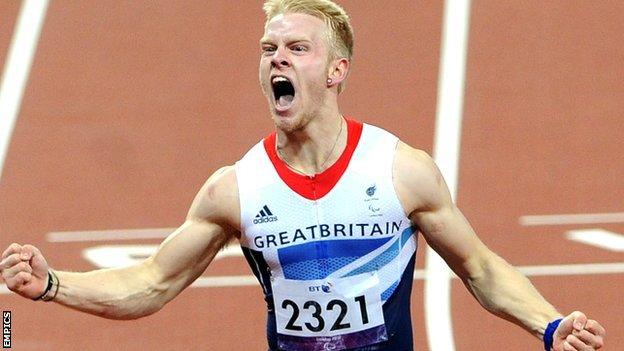 It is a name that seemed almost destined to be the centre of attention.
Last summer, Jonnie Peacock had 80,000 spectators chanting for him - and nearly seven million Britons gripped to their sofas. The single-leg amputee promptly blazed to 100m gold in perhaps the defining race of the London Paralympics.
Eight months on, it is back to reality. At a windswept Loughborough, the 19-year-old is limbering up on the training track. Showers are scudding across the skyline.
Peacock smiles - as he nearly always does. He has experienced many things since September - an operation, a new running blade, a new coach, a new training base and the usual post-2012 comedown. Almost everything, in fact, apart from a race.
But that is about to change as he prepares to make his comeback at the BT GreatCity Games - in which he will compete against fellow Paralympians on a specially laid track in central Manchester.
He sums up his feelings as "excited nerves". "It doesn't feel like eight months," he adds. "I'm looking forward to getting back out there - but I'm anxious to know what sort of shape I'm in.
"It's just so unknown at the moment - because of so many variables changing. For me, this is really a year to get settled and get stuck in."
The uncertainty is a result of ankle surgery - "it just needed a good clean out" - and his new blade, which bucks the current trend by being slightly shorter than his previous one.
"The other one was a tiny bit too long," explains Peacock. "I obviously grew and got stronger, and different muscles were being used. My alignment was slightly out. I'm running a lot smoother now."
Like other athletes, Peacock has also had to deal with sudden stardom. His lasting memory of London is "just crossing the line - and being so excited and so scared at the same time".
He laughs at the suggestion he is famous. "But it's good, because a year ago, I would never expect that someone who won the Paralympics would be this recognisable, so for me it's just a big relief to see how the sport's progressed," he adds.
"I think it's getting taken more seriously as sport now, which as athletes we want to see."
That new strength-in-depth of disability athletics is about to be tested because the sport will be missing its marquee name this summer, with Oscar Pistorius awaiting a murder trial in South Africa.
I suggest to Peacock that he could be the sport's new face. Again, he smiles. "I wouldn't see it as that. I think there are a lot of faces now - athletes the fans can get to know. Obviously, I love competing - and I'll do anything I need to for my sport."
Inevitably, even for one of sport's sunnier characters, there was a touch of the post-Games blues. "You've been training for three years to do something - every single race has been building up to it - and your life feels as it's stopped after 2012," he explains.
But now the competitive edge is back for Peacock, who admits he has "always hated losing".
"Even when I was with my sisters at home, I never liked losing any games on the Wii," he adds.
"I'd be there for hours afterwards trying to beat the highest score. Unfortunately, that's the kind of person I am - but it does help me with a bit of drive when it comes to training for athletics."
Peacock's primary focus this year is the World Championships in July. How fast can he go?
"It's the question I always used to ask my coach," he grins "and I would never get a clear answer. There are so many variables. Obviously, it's unlikely that 10.85 (his current world record) is the fastest that I'll go - but we don't know what the best will be. It could be a low 10.8. It could be a high 10.7. It could be faster.
"The only way is to keep watching. Hopefully we'll see some fast times pop up."