Oscar Pistorius will be welcomed back, says agent Peet van Zyl
Last updated on .From the section Athletics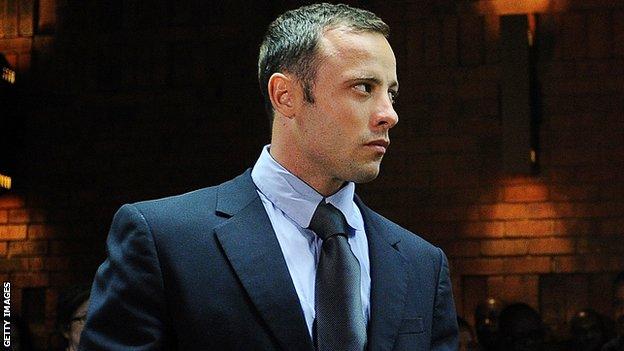 Oscar Pistorius will be welcomed at certain meetings when he returns to athletics, according to his agent.
The athlete, who denies murder after the shooting of his girlfriend Reeva Steenkamp at his South Africa home in February, is on bail awaiting trial.
A court changed the 26-year-old's bail restrictions last week to allow him travel abroad for competitions.
"I've received emails of support from various meeting directors," Peet van Zyl told BBC Radio 5 live.
"When the time is right, we will approach competitions and I'm sure there will be guys out there who will be willing to have him back out on their track.
"But he is the only one who can determine if and when he is ready to train and return to competition."
The South African double amputee, who is known as 'Blade Runner' because of his prosthetic legs, is on bail after being charged with the premeditated murder of Steenkamp, who was shot dead at his Pretoria home on 14 February.
Pistorius claims he mistook her for an intruder at his home.
Van Zyl, who is due to meet Pistorius on Tuesday, has also not ruled out the prospect of the athlete competing at August's World Championships in Moscow.
The International Association of Athletics Federations (IAAF), which is the body responsible for the World Championships, told BBC Sport last week that Pistorius, who has competed at both Olympics and Paralympics, would be "free to run" in the event on the "basis of the 'innocent until proven guilty' principle".
"First and foremost, he has to be ready to train and compete," said van Zyl. "Once he is ready and feels he is up for training again, we will have him back on the track.
"He is a world-class athlete and if he does compete again this season - and if he achieves the qualifying times - it is something you would have to consider, but it is early days.
"He hasn't trained for eight weeks, so to get back into competition form he would have to train first and it will take him time to get back to that level."
Nova, the company which organises the Manchester City Games, said there were "no plans to invite him over" after the change in his bail conditions. Pistorius withdrew from the event, to be held on 25 May, after being charged.
It is also believed he is unlikely to be invited to compete at the London Anniversary Games in July at the Olympic Stadium.
At London 2012, Pistorius became the first double amputee to run at an Olympics. as he took part in both the 400m and 4x400m.
He then won gold medals in the T44 400m and T42-46 4x100m at the Paralympics, as well as silver in the T44 200m.
The International Paralympic Committee told BBC Sport it would wait until after Easter to discuss the matter of Pistorius competing at the IPC Athletics Championships, which take place in Lyon in July.