Sochi 2014 Winter Games: One year to go until Paralympics
By Elizabeth Hudson and Nick Hope
BBC Paralympic sports reporters
Last updated on .From the section Disability Sport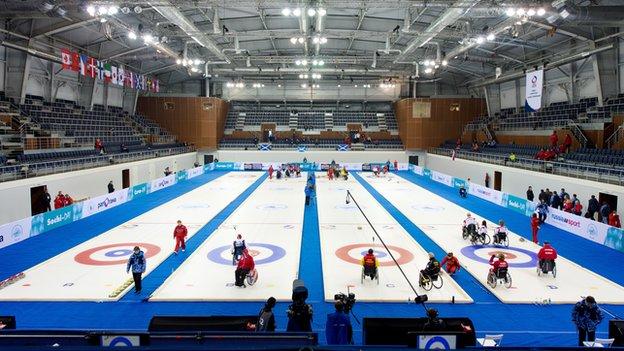 Following the euphoria created by London 2012, skier Kelly Gallagher believes the British alpine team can finally end their search for a first-ever Winter Paralympic gold medal in Sochi, Russia, next year.
Despite competing in every Games since the Winter Paralympics inception in Sweden in 1976, GB have never topped the podium - winning six silver and 15 bronze medals.
Gallagher, who is visually impaired, finished fourth in the giant slalom at the 2010 Vancouver Paralympics, but won four medals at the recent World Championships in Spain - fuelling her confidence of success at the Sochi Games, which run from 7-16 March 2014.
"I know I can get that gold," said the 27-year-old from Northern Ireland.
"I went to the Paralympics last summer and all of those British and Irish medallists were really inspiring.
"I think with the amount of support around me and Charlotte [Evans] - who is the right guide for me - that we can get it right and win. We just need to keep training hard, focus and keep smart on the snow."
Great Britain hope to have participants in three of the five sports at the Games.
The wheelchair curlers have already secured their Sochi place and the skiers will be named in early 2014, while the sledge hockey team head into a tough tournament in Japan next week knowing a top-three finish will see them move closer to achieving their qualification dream.
"You are seeing World Championship performances from the curlers and the skiers which gives grounds for optimism for medals in Sochi," British Paralympic Association chief executive Tim Hollingsworth told BBC Sport.
"But I don't want to set expectations too high. We are talking about a team probably in the region of 11 or 12 athletes and when you think of the 11 medals a day we won in London we won't be anywhere near that.
"Personal bests from the athletes on the day are the best we should expect and for some athletes, that may well result in a medal."
To mark one year to go until the Games, BBC Sport looks at the British team's chances of success.
Alpine skiing
UK Sport funding to Sochi: £268,000
Paralympic success: 1984 - one bronze medal; 1992 - one silver, four bronze medals; 1994 - four bronze medals.
Despite a belief that World Cup medallist Sean Rose could push for the podium the greatest achievement of the seven-strong British alpine skiing team at the 2010 Vancouver Paralympics was Gallagher's fourth-placed finish.
Come Sochi, though, the GB squad will be considered amongst those with genuine multiple medal prospects. In addition to Gallagher, who has won six World Championship medals since the last Paralympics, the squad is also likely to boast rising star Jade Etherington.
Despite struggling to find a regular guide, the 21-year-old went into the 2013 Worlds boasting an impressive record of having won 26 medals from 28 races and went on to claim Super-G bronze in Spain.
"These results are great for British skiing," Gallagher told BBC Sport.
"It hasn't been easy for Jade, but we're all working really hard with the goal of next year's Winter Paralympics in mind."
A potential high-profile recruit for the Sochi squad could come in the form of Sir Paul McCartney's former wife Heather Mills who, having joined the development team in late 2010, has made steady progress up the world rankings.
The 44-year-old former model, who lost part of her left leg in a 1993 road accident, is yet to attain enough ranking points to compete at elite World Cup events so will need to deliver consistent medal-winning performances in second-tier competitions to boost her prospects.
Anna Turney, meanwhile, will be seeking a Russian renaissance next year after finishing sixth in Vancouver.
The sitting skier joins Gallagher and Etherington in a small squad out at the Paralympic test event in Sochi this week.
Because of funding shortfalls in the sport, it is a trip which only became possible thanks to a grant from the Peter Harrison Foundation.
"It's absolutely massive for the athletes," stated Disability Snowsport chief executive Fiona Young.
"With a year to go until the Games the athletes and staff need to be able to see what the venue will be like and also prepare for any challenges or difficulties they may have to face."
Wheelchair curling
UK Sport funding to Sochi: £350,200
Paralympic success: Silver: 2006
The GB wheelchair curlers, made up of Scotland players, claimed silver when the sport made its debut in Turin in 2006 to become Britain's first medallists at a winter Games since Lillehammer in 1994.
However, four years later in Vancouver they finished seventh in the pool stages and failed to advance to the medal matches.
Since then, under new coach Tony Zummack, the Scots finished runners-up at the 2011 World Championship and were sixth at the recent Worlds at the Ice Cube Centre in Sochi, which will host the Olympic and Paralympic curling events.
Wheelchair curling teams are made up of four players with the stones the same size and weight as the Olympic stones. The main difference between the two versions of the sport is that in the Paralympic event there is no sweeping.
Major championship results over the past three years were sufficient to qualify the Scots for Sochi, where they will face nine other teams - hosts Russia, defending World and Paralympic champions Canada, China, Sweden, USA, South Korea, Slovakia, Norway and Finland.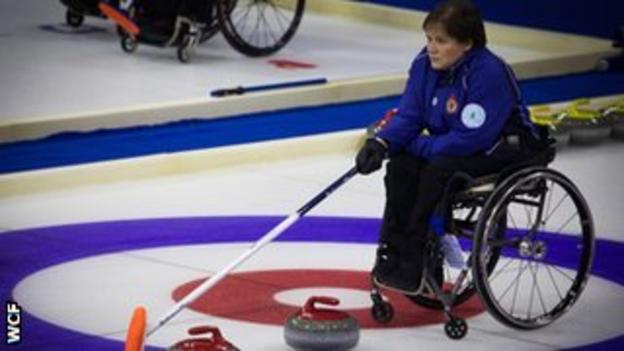 "Over the next 12 months, we have to stay focused on getting better every day," Zummack told BBC Sport. "I know it is a cliche but we have to do the small things right so that we build the consistency and the expectation and intensity levels.
"We also want to get as many games as possible and have as many opportunities to play on the ice as a group as we can, as the standard of play is rising all the time.
"Seeing how the London Games were embraced has to bleed into the Winter Olympics and Paralympics. The difference is that in Russia, we are going to a country where you don't know how they are going to support it."
Sledge hockey
UK Sport funding to Sochi: None
Paralympic success: None
Great Britain's last sledge hockey appearance at a Winter Paralympics came in Turin in 2006 where they finished seventh out of eight teams.
The sport is similar to ice hockey with the athletes using specially designed sledges fitted with two blades to propel themselves across the ice. They also have two playing sticks which are used for pushing and to control and shoot the puck.
The GB team failed to reach Vancouver and now, after a period of rebuilding, take part in the World Championships Pool B in Nagano, Japan, which starts on Monday 11 March, knowing a third-placed finish will see them advance to a further tournament later this year where they could qualify for Sochi.
In Pool B they will face Japan, who have been relegated from Pool A, as well as Poland. The other group features Germany, Estonia and Slovakia.
Later this year the top three finishers will face the bottom three finishers from the Pool A event, which also takes place this month, with the top three teams to qualify for Sochi.
Among the GB players will be Steve Thomas. One of four survivors from the Turin team, he is also one of a select group of athletes to have competed at both the summer and winter Games. Thomas represented GB in sailing in Athens (2004), Beijing (2008) and London.
"If we don't qualify we will reassess and go again," admitted coach Andy Linton. "Our aim is to qualify for Pyeongchang in 2018 so to qualify for Sochi would be a real bonus for us.
"Our time on the ice has been limited because not only are our players all working full-time and having to travel to training - sometimes up to three hours - but we are also trying to get our time on ice around the rink's ice hockey commitments so we are sometimes training from 11pm until 1am and there are a lot of tired guys out there.
"Because we don't get UK Sport funding, we have to prove ourselves with the results we get. If we want to go to tournaments we do it ourselves. There is a great buy-in from the team and they are really motivated."