Wheelchair fencing champion criticises UK Sport funding cut
Last updated on .From the section Disability Sport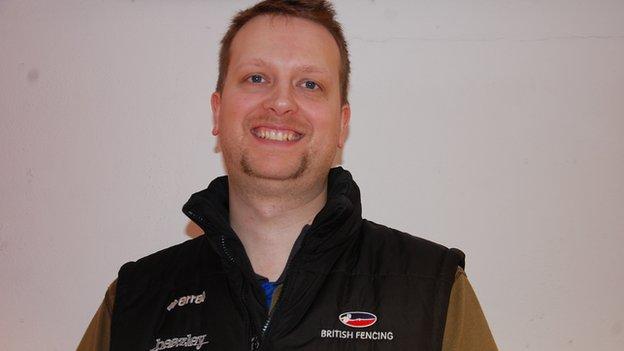 Cornwall's national wheelchair fencing champion Matthew Campbell-Hill has criticised UK Sport's decision to drop all funding from his sport.
While able-bodied fencing wheelchair fencing has got no money to spend in the run-up to Rio 2016.
"It's going to make next year very hard," said Campbell-Hill, who won the national sabre title in November.
"I'm going to have to find £10,000 just in order to compete."
Campbell-Hill's national title came too late for him to make the team for the 2012 Paralympics, but with no funding he says he has no certainty over whether he will be able to afford to go to enough international events to make him eligible for Rio 2016.
"Rio's the end goal but I'm going to have to do it year by year," Campbell-Hill told BBC Radio Cornwall.
"Hopefully we can make enough money to compete at all the competitions next year, and if we do well enough maybe we can get people to change their mind."
There are eight World Cup events running up to the World Championships and Campbell-Hill estimates each event will cost around £1,000 to attend.
"Not only have you got our competition entries, you've got your stay while you're there, your flights out, so unfortunately it's not the holiday it sounds.
"It's not only me that's going to struggle with that, it's everyone on the team.
"At the World Championship next year I'm hoping I can do something decent at that, but it does depend on me going out to the World Cups.
"If I'm the only one that can go out to a World Cup at a particular time, I won't just have to pay for myself, I'll need to pay for a coach to go out with me, so it doubles my costs," he added.