Paralympic judoka Ben Quilter to undergo knee surgery
Last updated on .From the section Disability Sport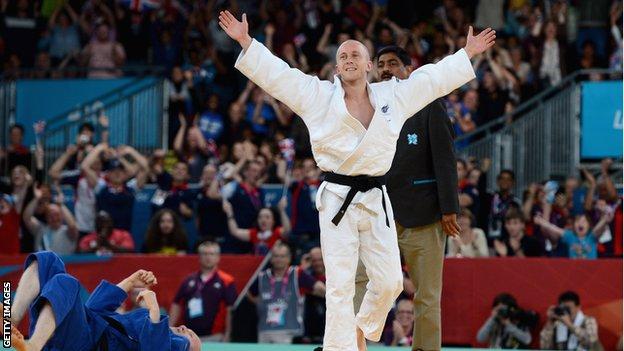 Paralympic judo medallist Ben Quilter is to finally undergo an operation to repair a long-standing knee injury.
"It's fairly routine and a lot of judo players have this operation," he told BBC Radio Kent.
"With all the rehab, it'll put me in good stead post-op to crack on as soon as possible."
Quilter, originally from Brighton but now living near his training base in Dartford, is not expected to return to competition before May 2013.
Although injured for the Paralympic Games, the 31-year-old fought back from losing his opening match to claim bronze by beating Japan's Takaaki Hirai by ippon, having finished fifth in Beijing four years earlier.
"My ACL was snapped in two pieces so I couldn't do any further damage to that.
"The risk was to have done more damage to the knee itself," he explained.
Quilter was delighted to take home a medal despite having been a favourite to do so prior to his injury but admitted his confidence was shaken by losing to Mouloud Noura in the quarter-finals, and having to carry his injury.
"It was difficult and after losing that match I realised how limited I was going to be.
"It was soul destroying. I couldn't generate the movement, speed or power.
"Every time I stood in the tunnel, I didn't believe I could win," he recalled.
"Once I won my second, I knew I had no choice but go for it and win every match.
"Once I'd won bronze, I wished I'd won gold but as time went on I appreciated bronze.
"I was able to compete and I'm thankful for that."
Quilter said to win a medal had been a "massive over-achievement" given that he avoided walking for five weeks before the Paralympics competition.
"My coach said this isn't about sport, a Paralympic medal or your career, this is about the rest of your life," he added.
"Luckily a lot of my preferred techniques weren't hugely affected by it."