Paralympian Alex Zanardi may consider motor racing return
Last updated on .From the section Disability Sport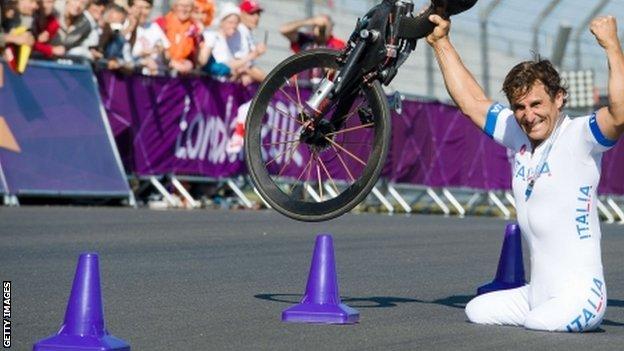 Double Paralympic champion and ex-Formula 1 driver Alex Zanardi says he may consider a return to motor racing.
His former team-mate, US motor racing team owner Jimmy Vasser, said before the Games that he would offer Zanardi a drive in the Indy 500 if he won gold.
Zanardi says that he still has "enough talent" to drive in the showpiece race.
In an interview with BBC Radio 5 live, Zanardi says that he is considering his next move after taking gold in the handcycling road race and H4 handcycling time trial in London.
"If something comes [along] and it looks to me to be a pure passion, I think in spite of my age I have enough talent to succeed," Zanardi said.
"I don't know if Jimmy is going to come back and put pressure on me and [try to] light that fire.
"To do it well - it's not a question of talent, but of preparation.
"I have too much respect for the drivers currently competing in the Indycar [series] to think that I can step in the car and win the most prestigious race in the world."
Zanardi had both legs amputated following a Cart accident in Germany 11 years ago.
He had won two Cart titles in the US before his accident and returned to racing two years after the crash, competing in the FIA World Touring Car Championship for the BMW team from 2003 to 2009.
Vasser, who owns the Indycar KV Racing Technology team, was a team-mate of the Italian driver in the US before his accident.
After claiming gold in London, Zanardi revealed that his old friend had offered him the chance to return to driving once again - and the Italian says that he has since thought about the idea of a return.
"It would take a lot of preparation.
"Right now my life is in Italy. I don't know if I'm really prepared to move back to the United States, because this is what it would take, at least for a great period of time, in order to prepare things right.
"If I did all of this, I believe that not only do I have enough talent, but actually driving around on an oval would be much easier than doing some of the things I had to do to win a World Touring Car Championship race."