Paralympics: David Weir yet to commit to 2016 Rio Games
Last updated on .From the section Disability Sport
Quadruple London Paralympics champion David Weir is yet to decide whether he will continue competing until the Rio de Janeiro Games in 2016.
The 33-year-old has won nine Paralympic medals across five separate Games.
He told BBC London: "If you asked me four or five months ago, I'd say London would be my last Paralympics.
"I just want to enjoy this moment, sit back and be proud of my medals and then see. I've got plenty of time to make the decision on Rio."
Weir, from Wallington, took gold in the 5,000m,1500m, 800m and marathon races in the T54 category in London.
"I've had the greatest preparations ever for any championships I've been in," he added.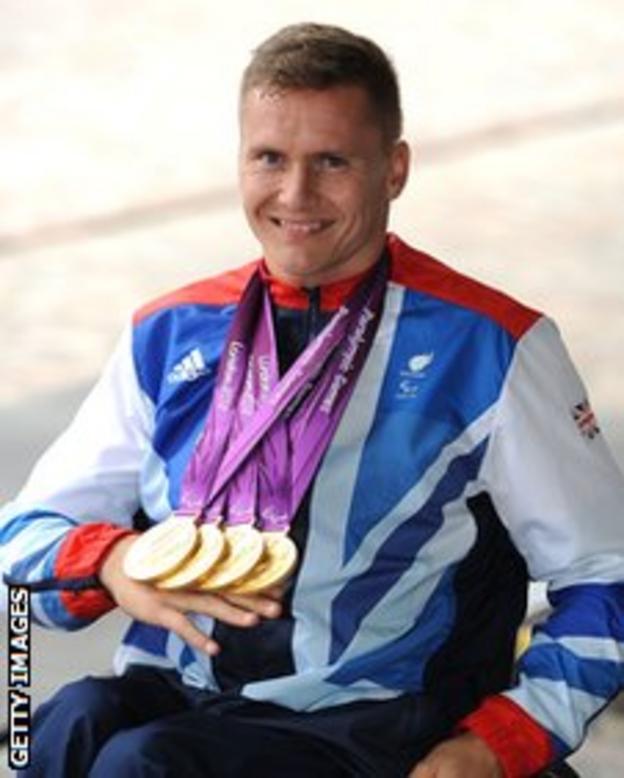 "I had no injuries or illnesses and have a great family to pick me up when I'm feeling low.
"I don't know [about Rio]. It's a long way ahead."
Weir was Paralympics GB's most successful athlete at the Games along with cyclist Sarah Storey.
But he says his victories in the 5,000m and marathon stand out.
"They are all special but I think the first one was very special as I just wanted to get off to a winning start in my home games," Weir continued.
"The marathon was great because all my family were on the last corner.
"I'll never forget seeing my son, my partner, my mum and dad and a couple of friends at the finishing line."
Weir, who has won the London Marathon six times, admits that his success at the Games has still not sunk in.
"I'm still running off adrenaline," he said.
"I can't believe it's happened. I feel like I'm dreaming.
"I feel like someone will click their fingers, I'll wake up and have to go off and race.
"It's a dream come true and I'm loving every minute of it."