Paralympics 2012: British medal haul 'bodes well' for Rio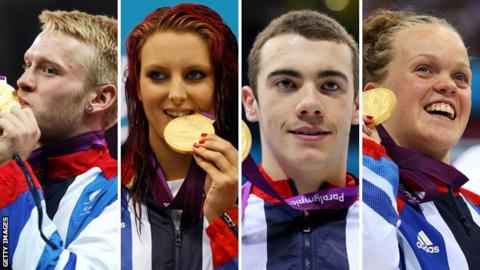 Great Britain's athletes have been backed to improve on their Paralympic medal haul at Rio 2016.
GB finished the 2012 Games with 120 medals, 18 more than in Beijing four years ago.
"Fifty-four of our medallists are 22 or under," said Penny Briscoe, performance director of the British Paralympic Association.
"A significant number of under-18 and under-21s won really significant medals. It all bodes well for Rio."
Eight of GB's gold medallists in London are aged under 22, including teenage swimmers Josef Craig,Ellie Simmonds,Oliver Hynd,Jessica-Jane Applegate and sprinter Jonnie Peacock.
"The success of our Talent ID programme over the last cycle has shown through," added Briscoe.
"We have smashed our medal target. And more sports have delivered medals than ever before."
Britain's overall medal tally was 17 more than the target set by UK Sport.
But the number of golds acquired dropped from 42 in Beijing to 34 this time around, meaning they finished third in the medal table behind second-placed Russia.
"We are third in the medal table, which does rankle just a tad," Briscoe admitted. "But we are ahead of all our closest competitors in terms of total medals won.
"There's a little bit of disappointment. On one hand we're absolutely delighted, but we're never satisfied and we wouldn't be the nation that we are, have had the success over the last three Paralympiads and be where we believe we can be in Rio, if it didn't rankle. It isn't in our psyche."
Meanwhile, the record crowds that have turned out for the Paralympics have been urged not to dismiss disability sport once the Games are over.
and hopes the Paralympics can capitalise on its popularity over the past 12 days.
"It's not just the Games. There are World Championships, European championships, domestic competitions that we all compete in," said the 34-year-old.
"They are throughout the four-year cycle. It's not just these Games and it would be great if the British public were aware of this and support us.
"The British public has really embraced us. I hope and I truly believe that we've inspired a generation and I think that will continue."