Spanish swimmer Sebastian Rodriguez triumphs over dark past
By Rosario Gabino
BBC Mundo
Last updated on .From the section Disability Sport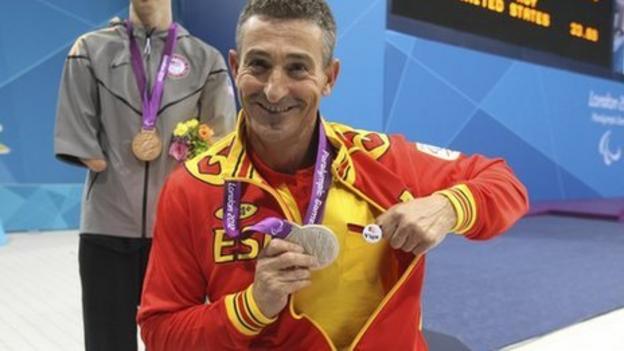 Seeing the triumphant smiles of Spanish swimmer Sebastian 'Chano' Rodriguez at London 2012 it is difficult to imagine his troubled past.
Born in Cadiz in Andalucia, his life has been marked by violence and controversy, as well as incredible sporting success.
In 1985, when he was 26, he was sentenced to 84 years in prison for taking part in several bombings in Spain and the murder of an Andalusian businessman, Rafael Padura.
He says he feels remorse for his crimes, but does not like to speak directly about his past as a member of Grapo, a left-wing armed group that was considered a terrorist organisation by the European Union.
"Over the course of my life I have seen that I was wrong. I've tried to rectify that and I'm working on it. There is nothing I can do about the past. What I can do is make the future different," he tells BBC Mundo.
In 1990, 'Chano' Rodriguez took part in a hunger strike to demand that all the prisoners of the Maoist group be housed in the same jail.
His 432 days without food permanently damaged his health, and he lost the use of his legs.
In 1994, he was released from prison under a Spanish law granting parole to seriously ill inmates and in 2007 he received a government pardon.
By that time he was already an exceptional swimmer and Paralympic medallist. At Sydney in 2000 he won five gold medals and broke four world records in the pool.
But his achievements were overshadowed by scandal when it emerged that he had lied to Paralympic officials, saying his disability had been caused by a traffic accident.
Despite calls for him to return the medals, the International Paralympic Committee decided that he had not broken any rules.
In London he won two silver medals and a bronze, in addition to the other 13 won in previous games.
Now aged 55, Rodriguez says he still has the "nerve" to compete at the highest level despite, he jokingly adds, "being older than almost all my opponents put together".
"People ask me: 'Sebastian, what's is your secret? What do you eat? How do you train? We want to still compete at your age too!' But I don't have anything special. If there's something that favours me it's simply consistency and a clarity about the goals I pursue.
"In life there are no secrets, no magic. If you work hard and have a bit of good luck, the results will come."
Before we say goodbye, one of the most controversial Paralympians at the Games asks me to read a phrase that an anonymous admirer sent him.
"Though no-one can go back and make a new start, everyone can start from now and make a new ending."