Paralympics: Rachel Morris & Karen Darke try to share bronze
Last updated on .From the section Disability Sport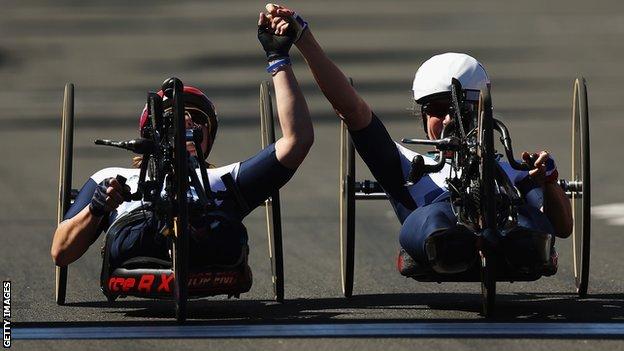 Rachel Morris was awarded Paralympic handcycling bronze after crossing the finish line hand-in-hand with fellow Briton Karen Darke at Brands Hatch.
Americans Marianna Davis and Monica Bascio took gold and silver in the H 1-3 road race, with Morris and Darke vying for third place.
They chose to finish together but Morris's front wheel crossed the line first and she was awarded bronze.
Morris suffered a dislocated shoulder after being hit by a car in July.
"It's been quite emotional the last few weeks," said Morris, who won gold in the time trial in Beijing four years ago.
"This year has been a bit tough and Karen has been amazing, so to go across the line together felt really right.
"I've not had the best lead-in to these Games so this bronze medal means more than gold. It just means everything to me.
"My team-mates have been fantastic and it was amazing to go round with Karen. We have worked so hard together and wanted to finish together."
The pair had wanted to share the medal but Morris took to the podium after officials gave her third place based on the photo finish.
"We've worked so hard together over the last few years, we couldn't bear the thought of pipping each other to the line," said the 41-year-old Darke, who has already won time-trial silver.
"It wasn't that one of us was stronger than the other, so we just thought, 'Let's do it, let's grab our hands at 50m and go.'"