Alex Zanardi wins second Paralympics handcycling gold
Last updated on .From the section Disability Sport25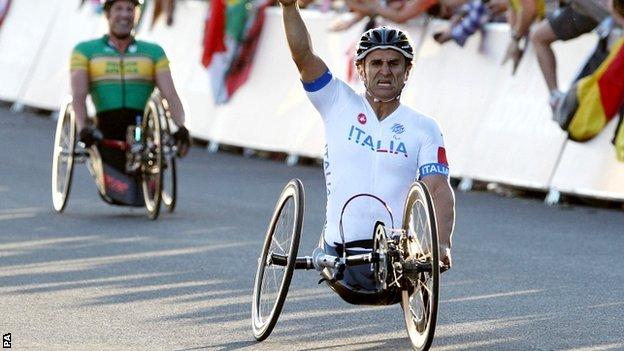 Italy's Alex Zanardi won his second Paralympic gold of the London Games with victory in the handcycling road race at Brands Hatch.
The ex-Formula 1 driver, who lost both legs following a crash in 2001, won the H4 handcycling time trial on Wednesday.
And the 45-year-old followed it up with a sprint finish to take the road race ahead of South Africa's Ernst van Dyk and Belgian Wim Decleir.
Zanardi had both legs amputated following a Cart accident in Germany.
"To win this race in this way, in such a dramatic way and sprinting makes me really proud," Zanardi said.
"It shows that I am a complete cyclist, even if I have no legs.
"The race did not go as I expected. I thought that I could take off soon and that I would only need to stay calm, but at the fourth lap I tested my opponents and understood my tactic would not work, so I changed it completely and only tried to save, save and save.
"I managed my energies well. It's been a tough race, I could have very well lost it."
Last year Zanardi won the New York marathon at the fourth attempt and also claimed world time trial silver.