Paralympics 2012: US swimmers Weggemann & Zook reclassified
By Nick Hope and Elizabeth Hudson
BBC Paralympic sports reporters
Last updated on .From the section Disability Sport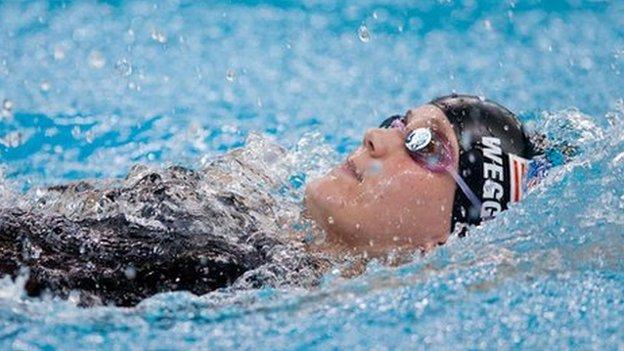 US Paralympic swimming stars Justin Zook and Mallory Weggemann have been reclassified on the eve of the Games.
It follows the re-testing of athletes by the International Paralympic Committee [IPC] which typically takes place ahead of all major championships.
Two-time Paralympic champion Zook and eight-time world champion Weggemann will now both compete against more able-bodied swimmers in London.
A verdict is still pending on fellow US swimmer Victoria Arlen.
The 17-year-old is a former New England-ranked champion swimmer who was left paralysed in 2006 by a virus which affected her spinal cord and also left her in a vegetative state for two years.
She came to prominence at the US trials earlier this year when she broke Ellie Simmonds' 100m and 400m freestyle world records, but her name disappeared off the official race lists on Wednesday morning ahead of her first race on Saturday.
It is understood that the IPC ruled she was "ineligible" for the London 2012 Paralympics on Monday.
That suggests her impairment, in the view of the IPC, does not impact on her ability to swim enough for her to be considered a Paralympic athlete.
The US Paralympic Committee is appealing against this decision and a verdict is expected on Thursday.
Weggemann, 22, came to Paralympic swimming in 2008 after she lost the use of her legs following a routine epidural for back pain.
She made her international debut at the IPC World Short Course Championships in Brazil in November 2009, where she broke six world records and won five gold medals in the S7 category.
The American was the most successful swimmer at the 2010 World Championships in Eindhoven, beating Britons Liz Johnson and Charlotte Henshaw and winning eight golds and one silver as well as setting nine world records in her category.
Weggemann was due to swim in seven events in London, but will now compete in five events across the S8, SB7 and SM8 categories.
After winning S10 100m backstroke Paralympic gold in Athens and Beijing, Zook - who is unable to use his right leg - was reclassified for the S9 class in 2009 and this latest ruling will mean he returns to his old classification.
The pair will now compete alongside athletes with a lower level of physical disability, so may find it tougher to attain medals.
The US Paralympic Committee did not comment on Arlen's situation, but in a statement Secretary General of the US Delegation Charlie Huebner admitted they were "disappointed" with the verdicts for Zook and Weggemann.
"We did everything possible to ensure a thorough and fair process, however, we have exhausted all possible avenues for reconsideration and, unfortunately, our appeals were not successful," said Huebner.
"We feel bad for these athletes who have come to London prepared to compete and their families who have travelled here to support them."
Huebner added: "We respect the IPC classification system which is fundamental to Paralympic sport and we will abide by the decisions."