Paralympics 2012: USA swimmer Jessica Long targets more gold

By Matt Slater
BBC sports news reporter
Last updated on .From the section Disability Sport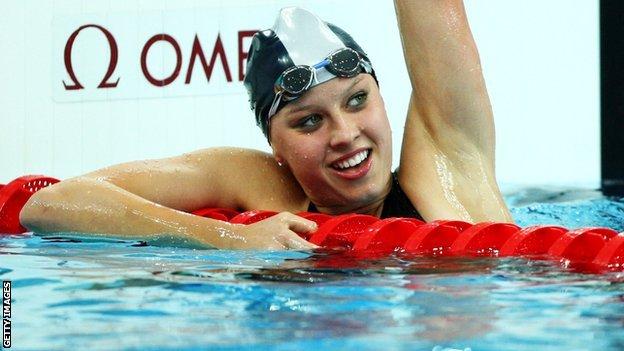 Increased media attention, more interest from sponsors and closer links with Olympic athletes show the Paralympic movement has never been stronger.
That is the view of Jessica Long, arguably the most high-profile member of the 227-strong team the United States is sending to London for the Paralympics.
Long, still only 20, is a veteran of two previous Games, where she won nine swimming medals, including seven golds.
"The Paralympic scene is growing, we're all Team USA now," said Long.
"We could always do more, but we're getting out there. Hopefully we're encouraging disabled kids to get involved in Paralympic sport.
"One thing I've noticed is with the sponsors. It's very even now.
"It's great to see the movement continue to grow."
Long singled out BP's backing of five Olympians and four Paralympians in the US as an example of sponsors' growing interest in disability sport.
But companies such as Adidas, BT and BMW do the same in the UK, and she can count a number of blue-chip firms among her own sponsors.
That is hardly surprising when you consider her story.
Born in Siberia, Long was adopted by her American parents from a Russian orphanage aged 13 months.
Five months later, her legs were amputated below the knee because of a congenital condition that left her without most of the bones in her feet and lower legs.
Long refused to let this limit her sporting horizons, with gymnastics being an early favourite until her parents' worries about knee injuries pushed her towards swimming.
By 10, she had joined a local team in Baltimore (coincidentally the home town of another famous American swimmer, Michael Phelps), by 11, she was named her state's "female swimmer of the year with a disability", and by 12, she was the youngest member of the US Paralympic team at the 2004 Games in Athens.
Long won three gold medals in 2004, but it was her Phelps-like domination of the 2006 International Paralympic Committee (IPC) Swimming World Championships that brought her to wider attention: nine golds from nine events, with five world records.
Later that year, Long became the only disabled athlete to win America's prestigious James E Sullivan Award, an annual prize given to the most outstanding amateur sportsperson in the country. Phelps was also on the shortlist.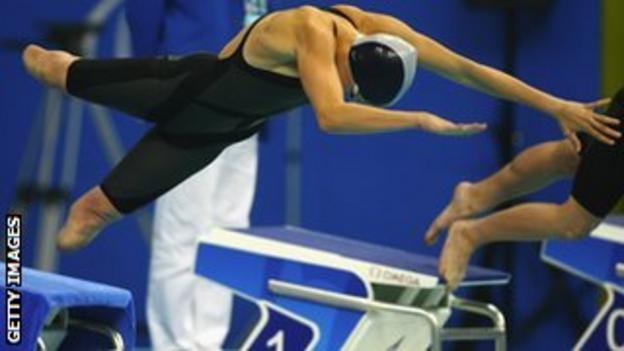 So high were the expectations that now surrounded Long that when she went to Beijing with hopes of winning seven golds, she was labelled a flop in some quarters for claiming only four, with a silver and a bronze too.
Speaking to the BBC at Team USA's Media Summit in May, Long said: "Looking back there were so many things that distracted me, but it was hard too because the media focused on what I didn't do, as opposed to what I did.
"It kind of broke me, as a 16-year-old, to the point I wasn't enjoying the sport anymore, I just wasn't happy with swimming. I needed a change.
"That's when I moved out to Colorado Springs, at the Olympic training centre, and within the first week of training under my new coach Dave Denniston, I fell in love with swimming all over again."
Denniston and Long make for a remarkable double act.
A college swimming star who narrowly failed to make the US Olympic teams in 2000 and 2004, Denniston was left paralysed from the waist down after a sledding accident in 2005.
Showing the same "can do" attitude Long has demonstrated from birth, he fought back and made the 2008 Paralympic team, before becoming the team's head coach in Colorado Springs.
Denniston is now the only person who Long trusts with her London medal target.
"I'm not saying my goals out loud to anybody - it's between my coach and I," said Long, who is swimming in seven individual events and two relays.
"We know what I can do and I'm swimming my heart out."
However, Long did confirm what she is most looking forward to once her busy schedule is over on 8 September, the penultimate day of the Games.
"I'd love to see some more of London, and I really want to take a photo of a red telephone booth," she said.
With mobile phones now so prevalent, it may be harder to find one of those than she thinks, but Long is nothing if not determined. If there are any original red telephone boxes left in Stratford, she will find them.