GB athletics team named for London Paralympics
Last updated on .From the section Disability Sport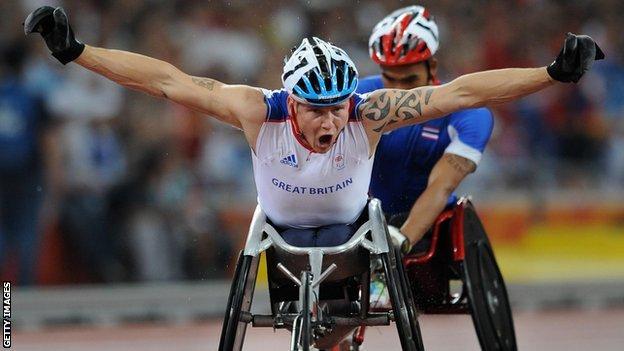 With 50 days to go to the start of the 2012 Paralympics, the British Paralympic Association has announced a 49-strong athletics team for the Games.
Among them are London Marathon champion David Weir who won Britain's only athletics golds in Beijing.
Also included are 28 debutants, including world record holders Hannah Cockcroft and Jonnie Peacock.
Tracey Hinton, who recently won two golds at the European Championships, will be competing in her sixth Games.
The 42-year-old, who is blind, made her debut in Barcelona in 1992 and has won three silvers and three bronzes during her Paralympic career so far.
Beijing medallists returning in addition to Weir are Ben Rushgrove, Mickey Bushell, Shelly Woods, Dan Greaves, Stephen Miller, Hazel Robson and Libby Clegg.
Richard Whitehead, who recently set a new world record at the European Championships, becomes one of a select number of athletes to have been selected for both a winter and summer Games while Josie Pearson will make her athletics debut after competing in wheelchair rugby in Beijing.
The team also includes Derek Derenalagi, one of a number of competitors in the ParalympicsGB team for London who has come through the Ministry of Defence's Battle Back programme.
Born in Fiji, the 34-year-old lost both his legs while serving with the British Army in Afghanistan.
Wheelchair racer Weir will compete in four events in London - his fourth Games - and will be defending his 800m and 1500m titles.
"Training has been going well and I'm completely focused on success in London," said the three-time World Champion who won a record-equalling sixth London Marathon title in the capital in April.
"Last winter was my first solid block of winter training in a couple of years and that, coupled with the great support team I'm working with, has really helped me both physically and mentally.
"I definitely felt the pressure going into Beijing four years ago but I've grown as an athlete since then and I think I proved that to an extent with my gold medals at the World Championships in New Zealand last January. There's no doubt that the T54 class is one of the most fiercely competitive and exciting to watch in Paralympic sport, but I have realistic expectations and I hope that I can give the crowd something to shout about in one of the Games' showpiece events."
Head coach Peter Eriksson believes his team can impress in London after a disappointing Games in Beijing.
"As you can see from our selection, we've made a lot of changes since Beijing where we finished 18th overall and that medal performance has been our benchmark for progress ever since," he said.
"We had a hugely successful World Championships in January 2011 where we won 38 medals and finished third in the medal table. Now, in my third full year at UKA, we're starting to see the gradual transition to a much more professional squad with a fantastic team spirit as well as having competent performers.
"Overall the strength and depth of the squad has improved and that's a huge positive. We've seen a tremendous increase in the number of new athletes coming into the sport and in particular, those that we've been able to fast track from development through to international representation at junior and senior level.
"I'm confident we can do well and but we can't underestimate the fact that every other nation will have stepped up their preparation and performance goals."
The athletics announcement completes the line up for the ParalympicsGB team in London which will feature 288 athletes, alongside a further 13 team members, including sighted goalkeepers, tandem riders and guide runners.
GB PARALYMPIC ATHLETICS SQUAD
MEN
Ola Abidogun (T46 100/200m), Jonathan Adams (F34 shot putt), Graeme Ballard (T36 100/200m), Paul Blake (T36 400/800m), Mickey Bushell (T53 100/200m), Jamie Carter (T34 100/200m), Aled Davies (F42 shot putt/discus), Derek Derenalagi (F57 discus), David Devine (T12 800/1500/5000m), Kyron Duke (F40 javelin/shot putt), Dan Greaves (F44 discus), Jordan Howe (T35 100/200m), Rhys Jones (T37 100/200m), Andy Kaar (T20 1500m), Dean Miller (T37 1500m), Stephen Miller (F32 club throw), Steve Morris (T20 1500m), Scott Moorhouse (F42 javelin), Stephen Osborne (T51 100m), Jonnie Peacock (T44 100m), Sam Ruddock (T35 100/200m), Ben Rushgrove (T36 100/200m), Nathan Stephens (F57 javelin), Kieran Tscherniawsky (F33 discus), David Weir (T54 800/1500/5000/marathon), Dan West (F34 shot putt), Richard Whitehead (T42 100/200m), Rob Womack (F55 shot putt).
WOMEN
Hollie Arnold (F46 javelin), Olivia Breen (T38 100/200/4x100m relay), Sally Brown (T46 100/200m), Libby Clegg (T12 100/200m), Hannah Cockroft (T34 100/200m), Katrina Hart (T37 100/200/4x100m relay), Tracey Hinton (T11 100/200m), Bev Jones (F37 discus/shot putt), Jade Jones (T54 400m/800m/1500m), Sophie Kamlish (T44 100/200m), Jenny McLoughlin (T37 100/200/4x100m relay), Maxine Moore (F32 club throw), Mel Nicholls (T34 100/200m), Josie Pearson (F51 discus/club throw), Gemma Prescott (F32 shot putt/club throw), Stef Reid (T44 100/200m/F44 long jump), Hazel Robson (T36 100/200/4x100m relay), Sophia Warner (T35 100/200/4x100m relay), Claire Williams (F12 discus), Shelly Woods (T54 800/1500/5000/marathon), Bethy Woodward (T37 200/4x100m relay)