Paralympian Stef Reid 'thankful' for life-changing accident
Last updated on .From the section Disability Sport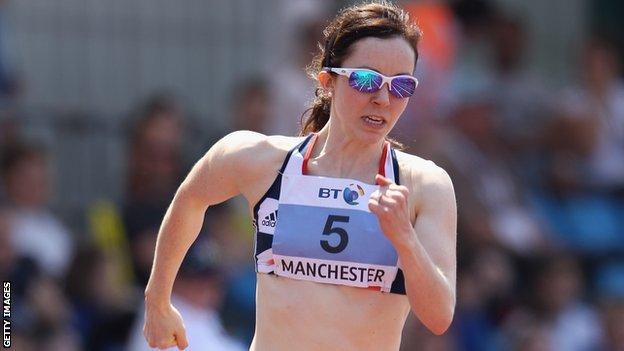 Paralympic athlete Stef Reid has told BBC Radio 5 live that she is thankful for the accident that changed her life.
Reid had her foot amputated and suffered lacerations to her back after a boating accident when she was 16.
"The accident changed who I was as a person - it changed my values and my goals in life," she said.
"I went from being a 16-year-old who was worried about who was dating who and the latest gossip to someone who has a real perspective on life."
She added: "That has been an incredible gift for me and I am grateful and thankful for that."
Reid was born in New Zealand to a Scottish father and English mother, and emigrated to Canada as a child. After representing Canada at the Beijing Paralympics, where she won bronze in the 200m and also competed in the 100m and the long jump, she switched allegiance to Great Britain and is set to be selected for the GB team for the 2012 Games.
She also defended her decision to switch nationalities.
"I grew up with two passionate parents and I love this country and am passionate about it but it is going to be difficult for people to take it at face value," she admitted.
"A lot of people think it is easier to make the team here but that had nothing to do with it. I'm the world record holder in long jump so it didn't matter who I competed for.
"Others think it is money, which is equally amusing. People don't compete in the Paralympics to get rich. I studied biochemistry in college and if I wanted to make money I would have moved to Los Angeles to do plastic surgery, or been a pharmaceutical rep, but that's not what inspires me - excellence is what I'm after.
"I want to be an excellent sprinter - not just an amputee sprinter. I moved here because the British system is the best and because I love being here."
Reid is one of the athletes featured on The Path to London - A Paralympic Journey on BBC Radio 5 live on Sunday, 1 July at 12:00 BST and available afterwards on iPlayer.