Peter Norfolk heads GB Paralympic wheelchair tennis team
Last updated on .From the section Disability Sport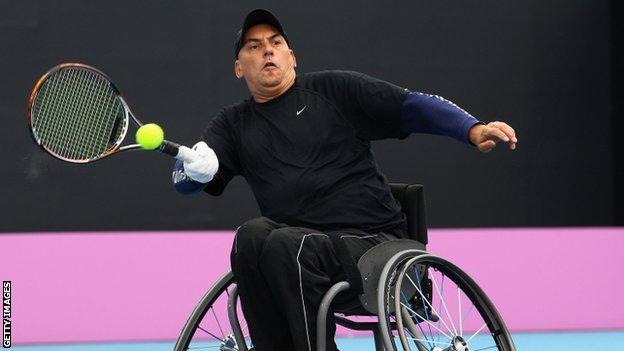 A 10-strong team will represent Great Britain in the wheelchair tennis events at the London Paralympics.
The team will be headed by defending quad singles champion Peter Norfolk, who will be bidding for his third consecutive gold medal in the event.
Norfolk is one of seven players who played in Beijing four years ago.
His regular doubles partner Andy Lapthorne, Louise Hunt and Marc McCarroll will make their Games debuts at the purpose-built Eton Manor.
"The challenge this year for London is bigger than it has been in previous years because there's more depth in the quad game. The competition is much tougher," Norfolk told BBC Sport.
"It is going to be about the draw, it is going to be about who's in which half of the draw. It's not going to be a walk in the park.
"I want to make sure that I'm as happy as I can be, and if I'm happy when I go on court and I can play my best, it should be ok.
"The losses I've had this year are just making me tougher, my competitors know I'm not just going to roll over and let them win. They've got to actually beat me, and I'm not going to finish until the last point. I've had a bad few months but I'm not going to have a bad Eton Manor.
"To win gold in London - even just talking about it, I've got butterflies. I can't tell you how much I really want to do it. London, at the moment, is bigger than life. I'm trying to keep it as small as possible, as otherwise the pressure gets too big - so I have to treat it as just another 16-draw tournament."
Also competing in the quad events will be world number four Lapthorne and former marine Jamie Burdekin, who won bronze alongside Norfolk in the quad doubles in Beijing.
In the men's events, McCarroll is joined by British number one Gordon Reid, David Phillipson and Alex Jewitt.
McCarroll and Reid will be using the wheelchair doubles event at Wimbledon next month as part of their preparations for London, as will Britain's top two women Jordanne Whiley and Lucy Shuker, who join Hunt on the Paralympic team.
Whiley will be hoping to emulate her father Keith, who won bronze on the track in the 1984 Paralympics in New York.
A total of 112 players from 30 countries will compete for six gold medals.
Among the other entries are three-time Paralympic champion Esther Vergeer of Netherlands, who is undefeated in singles since January 2003 and has also won two Paralympic doubles titles, and was a doubles silver medallist in Beijing.
The new world number one, Stephane Houdet of France, heads the men's entries with Japan's Shingo Kunieda looking to defend the Paralympic title he won in Beijing.
GB wheelchair tennis team
Men: Gordon Reid, Marc McCarroll, David Phillipson, Alex Jewitt
Women: Lucy Shuker, Jordanne Whiley, Louise Hunt
Quad: Peter Norfolk, Andy Lapthorne, Jamie Burdekin