Paralympic runner Sally Brown nominated for major award
Last updated on .From the section Disability Sport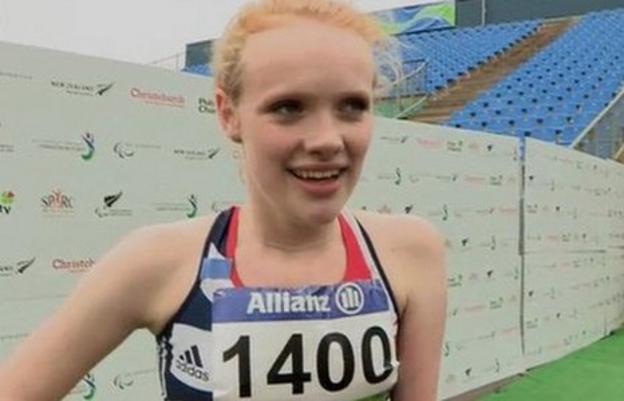 Northern Ireland paralympic athlete Sally Brown is one of 13 top prospects in British sport to have been short-listed for the SportsAid 2011 One-to-Watch award.
Sprinter Brown, who competes for the North West-based Springwell Club, won a bronze medal at this year's Paralympic World Championships in New Zealand.
Previous winners of the SportsAid award have included diver Tom Daley.
This year's winner will be announced in London on 16 November.
Brown, 16, also won a bronze medal at this year's Paralympic World Cup event in Manchester in addition to winning a gold and silver medal at the World Junior Championships.
The Northern Ireland athlete has been nominated along with 12 other athletes for the award.
"I have had an amazing year," said Brown, who was born missing her left hand and part of her arm.
"I have accomplished so much in such a short time - with the bronze medal at the World Championships in New Zealand starting it all off.
"I am really very honoured to have been shortlisted for this award and I am really proud to be in the last 13, especially considering the amount of sporting talent there is in the UK."
Other nominees are athlete Desiree Henry, swimmer Joel Knight, para-cyclist Crystal Lane, rower Jess Leyden, fencer Phillip Marsh, windsurfer Kieran Martin, archery Rebecca Martin, rower Pamela Relph, golfer Lauren Taylor, volleyballer Megan Viggars, badminton player Rhys Walker and judo player Jemima Yeats-Brown.