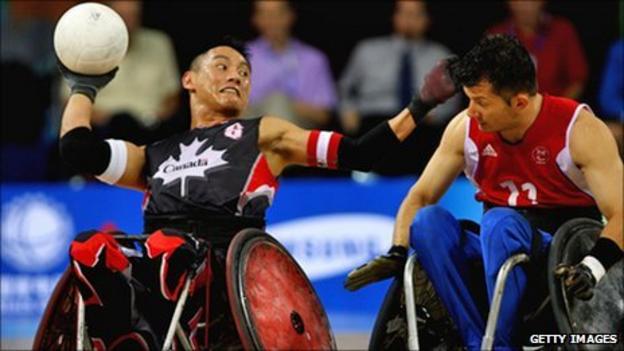 Applications for tickets for the 2012 Paralympic Games went on sale at 0900 on Friday 9 September and close at 1800 BST on 26 September.
The Games take place from 29 August to 9 September 2012 and will be the biggest yet, featuring around 4,200 athletes from 150 countries.
There will be 2m tickets available for the 20 sports and 312 sessions, with 75% priced at £20 or under and 50% at £10 or under.
So what should you watch?
The 11-time Paralympic gold medallist Baroness Tanni Grey-Thompson looks at athletics, boccia and wheelchair rugby while BBC Paralympic sport reporter Elizabeth Hudson focuses on swimming, goalball and wheelchair tennis.
ATHLETICS
As a former athlete and a great fan of the sport, I am a bit biased here, but athletics is the sport that has something for everyone.
In wheelchair racing, the rivalry between Marcel Hug of Switzerland and Britain's David Weir is an exciting one to watch. They have been neck and neck over the past few years, with Weir dominant this year in winning three golds at January's World Championships.
While his Swiss rival is young and keen, Weir - who won two golds at the Beijing Paralympics - is proving himself as a master of control. Wheelchair racing is exciting as there is often the threat of a crash (always spectacular, but fortunately serious injuries are rare) especially when the guys are flying around the bends at more than 25mph.
Another key rivalry is the one which we will see in the 100m and the relays between South African "Blade Runner" Oscar Pistorius and American challenger Jerome Singleton, who has studied mathematics and physics and spent time working with Nasa.
Singleton beat Pistorius over 100m at the World Championships and the renewing of their rivalry in London is eagerly anticipated and means Pistorius's bid for three individual Paralympic golds is by no means a certainty.
The field events are always good and, as with the track, there will be lots of opportunities for British medals.
BOCCIA
I am not known for my patience so some may think it strange that this would be on my list of things to watch.
Boccia, which is played in 50 countries worldwide, is related to petanque or bowls and the aim is to throw or bowl balls to get closest to a target ball called a jack.
It is played by wheelchair athletes with cerebral palsy, some of whom deliver the ball by using a ramp and have a sports assistant who they instruct to position the ramp for each delivery.
It takes skill, delicacy, and patience to play and when the team are playing at their best, a lot of nerve to sit and watch. You can think a match is all but won, but it can change with just one throw.
Both the individual and team games are worth watching and Britain has impressive pedigree in both, beating Portugal to win team gold in Beijing, thanks to David Smith, Nigel Murray, Dan Bentley and Zoe Robinson.
Brazil is another country to watch out for after winning two golds in Beijing and they have a lot riding on this with their home Games coming up in 2016.
WHEELCHAIR RUGBY
I probably preferred the name of the game when it was called Murderball but despite the name change it is still a fiercely competitive sport.
It was invented in 1977 by a group of Canadian quadriplegic athletes and made its Paralympic debut as a demonstration event in Atlanta in 1996 before becoming a full event four years later in Sydney.
Originally a game for quadriplegics it has now been opened up to other impairment groups, but the spirit of the game has not been lost.
I've seen the sport since it was first introduced in the UK in the 1980s and have watched the British Paralympic team develop and grow over the years to become medal contenders along with traditional rugby-playing nations like New Zealand and Australia. It is the United States, though, who are the current World and Paralympic champions.
It is fast, exciting, and the game can be turned around in seconds. While crashing, and lots of it, is one part of the game, tactical ability and stamina are essential.
The chairs often look like something from Robot Wars and the whole package makes it a fabulous sport to take thrill-seeking youngsters and sports fans alike along to watch.
And although it is a team sport that is mainly for men, you will see one or two female players on court.
SWIMMING
At any Paralympic Games, the atmosphere in the Aquatics Centre is always hard to beat, especially when there is a chance of home success.
Come along and cheer loudly but leave your jumper at home - it's always sticky and humid in there and watching swimming can be thirsty work!
From the splash and dash of the 50m to the endurance of the 400m, altogether there are 148 golds up for grabs and athletes of all disabilities are catered for, including, for the first time at a Paralympics since 2000, athletes with a learning disability.
For me, there is something humbling in seeing athletes - some with severe disabilities who struggle to control their limbs, and others who are missing them, battling hard to make their way through the water.
From a Team GB perspective, there will be plenty of medal hopes with the likes of Ellie Simmonds, Susie Rodgers, Jon Fox and Sascha Kindred all hoping to win gold while David Roberts will be hoping to overcome a couple of years of injury and illness and win his 12th Paralympic title and overtake Tanni Grey-Thompson's record.
But the likes of South African Natalie du Toit, American pair Jessica Long and Mallory Weggemann and Ukraine's Yevheniy Bohodayko, who won 10 medals including eight golds at the recent European Championships, will be doing their best to spoil the GB party.
GOALBALL
Another sport which does not have a Olympic equivalent, goalball was devised in 1946 to help in the rehabilitation of Second World War veterans who were left blind or visually impaired.
It is played by teams of three on a court the size of a volleyball court with goals the size of five-a-side football goals spanning the width of the pitch.
Players try to throw a ball, similar to a medicine ball, weighing a kilogram and a quarter with a bell contained in it, into their opponents' goal while their opponents throw their bodies in the way to stop them.
All players wear eye shades to make sure there is no advantage for those who are visually impaired over those who are blind.
Everyone must judge the position and movement of the ball by the sound of the bell alone and it means spectators must be quiet while the game is in progress.
GB's last Paralympic appearance was in 2000 in Sydney but after missing out on Athens and Beijing, the British men's and women's teams are working hard to make an impact in London but they will have a way to go to catch up on Lithuania and China, who are the leading teams in the men's event, and China and the US in the women's game.
WHEELCHAIR TENNIS
For newcomers to Paralympic sport, wheelchair tennis provides a gentle introduction.
The only difference to the able-bodied game is that the ball can bounce twice, although the first bounce must be within the court, but the speed and dexterity of the players around the court means that often the ball is taken on the first bounce.
There are medals up for grabs in three singles and doubles categories - men's, women's and a quad division, which is for male and female players who are affected in three or more limbs, and the event will be taking place at the only purpose-built Paralympic venue at Eton Manor.
Dutchwoman Esther Vergeer is undisputed star of the sport with a winning streak of 422 singles matches (you read that correctly - 422 matches!) and she will be the overwhelming favourite to win her fourth consecutive Paralympic women's singles title, while in the men's game watch out for Frenchman Stephane Houdet who can serve at 100mph - only about 10mph slower than the world's leading able-bodied women.
Britain's main medal hopes lie with Peter Norfolk - known as the Quadfather - who will be aiming for his third Paralympic quad singles gold in a row while he and Andy Lapthorne will also be bidding for gold in the doubles.