Paralympic archers claim World medal success
Last updated on .From the section Disability Sport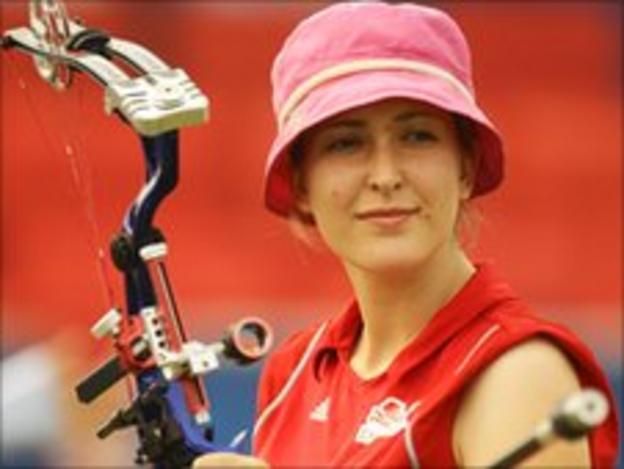 Britain's Paralympic archers won two golds and three silvers on the final day of the World Championships in Turin.
Beijing gold medallists Dani Brown and John Stubbs won a gold and two silvers apiece.
Telford-based Brown retained her compound individual title, beating Russia's Stepanida Artakhinova 7-3.
Stubbs won the compound men's team event along with Richard Hennahane and Eric Thomas.
In a tense final, they got the better of Korea 225-221.
That gold medal made up for Stubbs' disappointment at losing the individual final 6-4 to Switzerland's Philippe Horner, and in the mixed team final, when he and Commonwealth Games gold medallist Brown were beaten by Russia.
Stubbs and Brown led 117-114 going into the last of the four ends but the Russians, led by Artakhinova, shot four consecutive 10s in the final end while the GB team could only managed four nines.
Artakhinova went on to deny Brown yet again, when Russia defeated the GB trio that also included Pippa Britton and Sarah Beamish, in the women's compound team final 211-199.
"We've had a fantastic week, and returning home with two golds and three silvers is just superb," said Archery GB Paralympic head coach Tim Hazell. "Dani has proved beyond doubt that she's the best in the world, while John was in great form, but Horner was just a bit better.
"But I was delighted that John finally got that gold in the team final, and I'm delighted for Richard and Eric. This is their reward for incredible hard work, not just during the week, but in the months leading up to this championship.
"With the same dedication, there's no reason why they can't now go and win gold at next year's Paralympic Games in London, and hopefully the medals they've won this week will give all the incentive they need."