Paralympic dressage rider Lee Pearson out of Europeans
Last updated on .From the section Disability Sport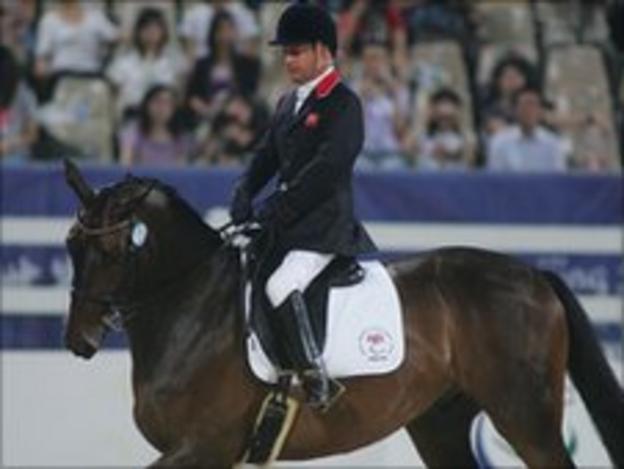 Nine-time Paralympic dressage gold medallist Lee Pearson will miss September's European Championships in Belgium with a back injury.
The 37-year-old fell from his horse during a training session, injuring his back and putting him out of the saddle for eight weeks - meaning he will miss the selection events in July.
An MRI scan revealed he had fractured three vertebrae and crushed a fourth.
"The news came as quite a shock. It's just uncomfortable to ride," he said.
"I never dreamed it could be broken. I thought I must have sprained it as I'm able to carry on with life pretty much as normal."
Although the fractures are stable and Pearson expects to make a full recovery, he has been advised not to ride to allow everything time to heal.
The European Championships - the last major Para dressage event before the London Games - take place in Belgium on 1-4 September.
Pearson added: "Nothing is set in stone and I could be riding again sooner than I think but either way it's much more important that I'm injury free and back in form for the Paralympics next year."
The five-strong team for the European Championships will be chosen after the two remaining selection events at Hickstead and Hartpury next month.
British riders have won team gold at every Paralympic, World and European Championship since the sport began.
Performance Manager David Hunter added: "It's very unfortunate that Lee has had this accident but we are relieved to hear though that it has been picked up early .
"We expect to see him back on board soon and fighting fit for London 2012."