2012 Paralympic countdown hits 500-day mark
By Elizabeth Hudson
BBC Sport
Last updated on .From the section Disability Sport
With 500 days to go to the start of the 2012 Paralympics, already there is plenty of speculation that London will host the most spectacular Games ever seen.
Britain has a proud history in Paralympic sport, with the first event taking place in Stoke Mandeville Hospital in 1948 when hospitals where British war veterans with spinal injuries were being treated competed against each other.
The first modern Paralympics were staged in Rome in 1960 and Britain have always been among the most successful nations, finishing second in the medal table behind the hosts China in Beijing in 2008 with 102 medals, including 42 golds.
Second place is again a realistic target, with the likes of swimmers Ellie Simmonds and Sascha Kindred, cyclists Sarah Storey, Jody Cundy and Darren Kenny, wheelchair racer Dave Weir and the rest of the GB squad relishing the chance to shine on home soil.
They will line up alongside world superstars like swimmer Natalie du Toit, tennis star Esther Vergeer and sprint rivals Oscar Pistorius and Jerome Singleton for a feast of elite disability sport.
More than 4,200 athletes from around 150 countries will participate in 20 different sports at the Games from 29 August - 9 September 2012.
The Beijing Games attracted 3,951 athletes from 146 countries and a total of 279 world records were broken during the 12 days of competition, which were watched by a global television audience of 3.8bn people.
Great Britain was represented in 18 sports in Beijing and the sports that missed out last time - goalball and sitting volleyball - will be hopeful of inclusion this time around, with a decision on their participation to be made later this year.
ParalympicsGB performance director Penny Briscoe knows the GB squad will have added pressure on their shoulders when it comes to the 2012 Games.
"We have been open about our ambition of maintaining our second place in the medal table, but we also recognise that Paralympic sport is developing quickly and we face ever-increasing levels of competition, so there is no room for us to be complacent," she said.
"2012 is undoubtedly the biggest event we have ever prepared for, so we have taken all the work that we have done in previous Games and expanded on it to ensure that we can say on 29 August 2012 that our team is physically, psychologically, technically and tactically ready.
"We all know that this is a one-off opportunity to put Paralympic sport on the map in Britain."
The Games will be staged in many of the Olympic venues, including the Olympic Stadium (athletics), Aquatics Centre (swimming) and Velodrome (cycling), as well as the likes of Eton Dorney (rowing), Weymouth (sailing) and Greenwich Park (equestrian para-dressage).
The Olympic Park will also stage the five-a-side and seven-a-side football at the Olympic hockey centre and goalball at the Olympic handball arena, as well as wheelchair rugby and wheelchair basketball at the Olympic basketball arena, although some basketball will also be held at the North Greenwich Arena.
The ExCel exhibition centre in the Docklands will host boccia, judo, sitting volleyball, wheelchair fencing, table tennis and powerlifting.
The wheelchair tennis events will be staged at Eton Manor while the archery and shooting will both be held at the Royal Artillery Barracks in Woolwich.
The London 2012 Organising Committee (Locog) will announce the ticket prices for the Games on 10 May with tickets going on sale on 9 September until 30 September.
Organisers say that in London there will be around two million tickets available to buy and so far more than 750,000 people have signed up for tickets - the most ever 500 days out from the start of the Games.
In Beijing, a total of 1.82m tickets were sold with a further 1.62m tickets provided to children, education and community groups.
Since finishing second in Beijing, Britain's Paralympic athletes have not been allowed to rest on their laurels and despite the recent departure of chief executive Phil Lane, they have continued to amass top-level success.
UK Sport had set a target of 34-52 medals for GB teams at 2011 World Championships.
However, that target has already been beaten with the athletics team winning 38 medals (their target was 15-25) at their World Championships in New Zealand in January.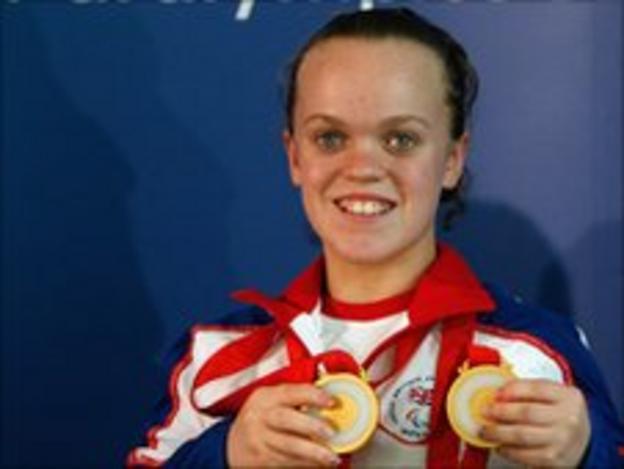 The track cycling team, who were among the star performers in Beijing in 2008, were set a target of 10-16 medals from their World Championships in Italy last month and improved on that with 18 medals, including nine golds.
They have another chance to add to their medal haul in September's Road World Championships, which will be another key event as they bid to earn qualifying places for next year's Games.
Still to come this summer, the archery team, including Paralympic and Commonwealth Games gold medallist Danielle Brown, will be hoping for medals at their World Championships in Italy.
Paralympic single sculls rowing champion Tom Aggar will be bidding to retain his World Championship title in Slovenia while the sailing squad face a busy period with two competitions over the 2012 course in Weymouth - the Sail for Gold regatta for Olympic and Paralympic classes, as well as their own Paralympic World Championships.
Eleven-time Paralympic gold medallist Baroness Tanni Grey Thompson told the BBC that she has high hopes for the London Games.
"Back when I started competing the word Paralympic wasn't used that much and my first Games in Seoul in 1988 there was very little media coverage," she said.
"But since then, each Games has seen the Paralympic movement advance and this time, athletes have the most amazing opportunities in terms of media profile, access to sponsorship and the chance to become a household name.
"For the guys who are aiming for 2012 they can almost feel it - they know almost how many training sessions are left and what they need to be doing and it is getting exciting.
"I believe London will be the best Paralympics we've ever seen but we also have to use the legacy of the Games to encourage more young disabled people to get involved in sport at all levels."
International Paralympic Committee president Sir Philip Craven, who represented GB at five Games from 1972-88, believes his home nation will stage a Games to remember.
"I always thought that the 2008 Beijing Paralympics would take some beating as they really did set the benchmark for future Games," he said.
"However, Locog has so far done a tremendous job going about things. On current form it would not surprise me if in just over 500 days' time at the closing ceremony of the Games I have to eat my words and say the same things about London as I did about Beijing four years ago.
"One thing that I think is an absolute certainty for next year is that the performance levels of athletes will once again be significantly raised.
"I think those who have never seen a Paralympic Games before will be surprised and taken aback at the sheer quality of performances from the athletes."