BDO World Championships: Lorraine Winstanley reaches her first Lakeside final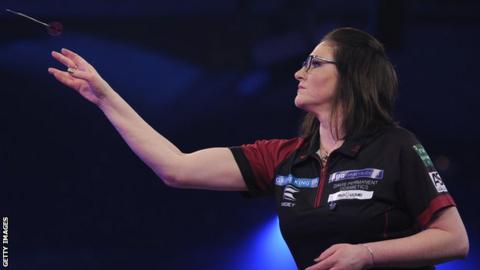 England's Lorraine Winstanley will play in her first BDO Women's World Championship final after beating three-time winner Anastasia Dobromyslova.
Winstanley, 43, the tournament's top seed, secured a 2-1 semi-final win at the Lakeside against the Russian, the runner-up in the 2018 tournament.
Saturday's final sees Winstanley face Japan's unseeded Mikuru Suzuki, who beat England's Maria O'Brien 2-0.
In the men's event, reigning champion Glen Durrant moved into the last four.
Durrant, winner in 2017 and 2018, registered an average of 98 as he beat Kyle McKinstry, the first Northern Irish player to reach the last eight since 1985, 5-2.
'I wasn't going down without a fight'
Dobromyslova, the 2008, 2012 and 2013 winner, beat Winstanley in the 2017 and 2018 quarter-finals and took the opening set, but Winstanley fought back to move into the final.
"I'm absolutely over the moon," Winstanley told Eurosport. "It was still not the best performance but I found a bit of grit when I needed to.
"I wasn't going down without a fight when she took the first set, so I just had to try and dig in.
"I hate playing her [Anastasia]. Obviously she's my bestie, I'm the godmother to her son, but to be fair she's done me in the last couple of years so it was my turn."
Suzuki, 36, who knocked out 2018 champion Lisa Ashton in round one, is the first Asian player to reach the women's final.
Durrant on course for third successive title
In the men's event Durrant had to win a deciding set in his last-16 match against Scott Baker on Thursday, but played much better as he ended the hopes of the unseeded McKinstry in the last eight.
"Last night I was super nervous and Scott was terrific, he could've won that game, but tonight I felt the preparation had been fantastic and the crowd were amazing," Durrant told Eurosport.
"I've had that target on my back for years and I've won trophies. There's a lot of pressure but I'm very happy."
McKinstry was playing in only his second World Championship after his first-round exit in 2018 and had beaten 10th seed Chris Landman of the Netherlands on his way to the last eight.
"If someone had said I would get to the quarter-final and push the two-time world champion I would've taken that," added McKinstry.
"I always felt I was there in the match but that's why he is the champion."
Durrant will face Wales' third seed Jim Williams, after he defeated 2015 champion Scott Mitchell 5-3 after a high-quality encounter in the final match on Friday.
In the other semi-final, England's two-time BDO world champion Scott Waites will play fifth seed Michael Unterbuchner.
Ninth seed Waites, 41, a winner in 2013 and 2016, beat fellow Englishman Conan Whitehead 5-3 and the German defeated Dutch player Willem Mandigers 5-4 in their quarter-final.