PDC Q-School: Colin Lloyd, Tony O'Shea & Darryl Fitton among players seeking tour cards
Last updated on .From the section Darts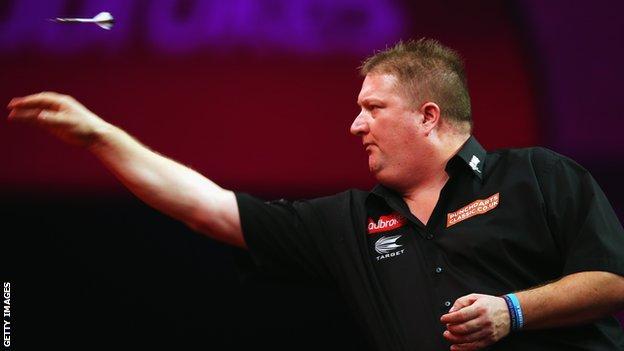 Former world number one Colin Lloyd is one of more than 600 players who will attempt to earn a Professional Darts Corporation tour card at Q-School.
Lloyd, 44, is making a comeback two years after dropping off the tour.
Former BDO World Championship finalists Tony O'Shea, Danny Noppert, Jeff Smith and Dean Winstanley have also entered, as have Darryl Fitton and Jamie Hughes.
Thirty-three tour cards will be awarded to competitors at events in Wigan and Hildesheim, Germany, on 18-21 January.
A separate tournament will take place on each of the four days at both venues, with the eight finalists at the UK Qualifying School in Wigan and the four winners of the European event in Hildesheim guaranteed a two-year tour card.
Players will earn points for their performances in each event and, of those not earning automatic qualification, the 21 players with the highest total will also be given tour places.
Anderson key to Lloyd's comeback
Lloyd, who won the 2004 World Grand Prix and 2005 World Matchplay, lost his place on the tour in January 2016 after falling out of the top 64 in the PDC rankings and chose to take a break from competitive darts.
However, he remained active on the exhibition circuit and his displays in events alongside Gary Anderson led to Scotland's two-time world champion playing a prominent role in Lloyd's comeback.
Colchester-born Lloyd told BBC Essex: "I'm doing exhibitions with Gary, I was playing quite well and he said 'why don't you have a go?'
"It was a case of not wanting darts to cost me money [but] he said 'I'll get sponsorship for you' - so he got his manager Tommy Gilmour to give me a call and the rest is history.
"I've been putting the hard work over the Christmas period, I'm going to go to Q-School and try my very best to try to get a tour card."
The prize money on offer for PDC players has grown significantly in recent years.
Rob Cross earned £400,000 for winning the 2018 World Championship on 1 January, and the 2019 champion will collect a first prize of £500,000.
"When I was winning majors, I won £20,000 and £25,000 - those majors now are worth £150,000 each. That's massive - the game's just grown so much," said Lloyd.
"I'd say the first-round loser next year, just for getting to the World Championship, could possibly get £20,000.
"It's ridiculous - the first ever World Championship I played in, being a first-round loser you got £750."
Lloyd, one of only nine players to have topped the PDC's world rankings, added that he would be "disappointed" if he failed to earn a tour card at Q-School.
He continued: "Part of me deep down thinks I'm still a professional darts player and I'm still classed as a professional darts player because of the exhibitions I do.
"I think if I do get a tour card, the buzz will really come back - I'll be putting in 100% and going at it again.
"I'm still young enough - I'm only 44 - I'm not an old man or anything like that. Phil Taylor's only just stopped competing and Phil was 57, so maybe I've got another 12 or 13 years.
"I think I've still got the game to compete with a lot of people. I just want to know if I can still compete with the so-called best of today.
"If I can't, I'll be disappointed but it won't be a problem. I've been at the top and nobody can ever take that away from me."