Seven-point guide to PDC Darts World Championship
Last updated on .From the section Darts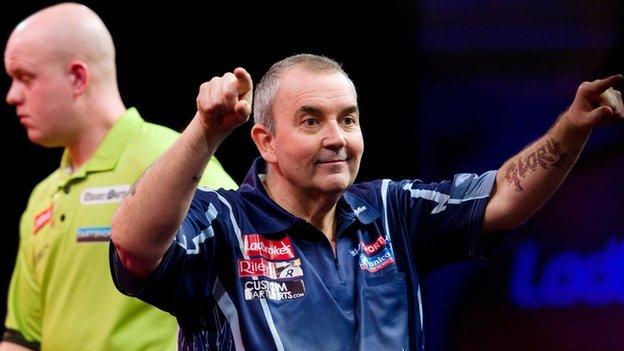 The PDC World Darts Championship starts on Friday 13 December, with Phil Taylor looking to defend the title and become champion for the 17th time.
Ahead of the tournament, BBC Sport asks former world championship semi-finalist turned pundit Chris Mason who's going to win, who to watch and for his views on the increasingly raucous atmosphere.
Who's going to win?
Ha! It's so tough to pick just one with so many players in form or looking as if they're finding their form. But, if I have to pick just one, then it's Phil Taylor.
Did you know? Taylor has played in 24 world championships, but has never gone out in the first round. He has won 14 PDC world titles, beating nine different final opponents in the process, plus two BDO titles.
Who else has a chance?
I think two-time champion Adrian Lewis and Michael van Gerwen are the obvious form horses. Van Gerwen recently beat Taylor in the Players' Championship Finals final, while Lewis and Taylor played what many consider the greatest ever game of darts at the Grand Slam in November. James Wade also looks to be finding some form and recently lost an 11-leg thriller to Steve Beaton with a 101 average.
Did you know? Only two men currently playing have beaten Taylor 10 times or more - Raymond van Barneveld (11) and Adrian Lewis (10). Michael van Gerwen is next, with nine wins.
Another Taylor win, wouldn't that be boring?
No, I don't think so. For casual fans, those who only watch the Worlds, then maybe it is, but fans who follow the sport will know that Taylor had his winning streak of five straight TV events ended emphatically by Van Gerwen at the Players Champs. Phil Taylor's 'A-game' still shines the brightest and his match in the Grand Slam with Lewis proves he's still the governor, but Lewis isn't too far behind. If you haven't seen that match, surf for it. It's incredible.
Did you know? Eighteen players in the draw have played in a world final in either the BDO or PDC. Two of them, Richie Burnett and Dean Winstanley, meet in the first round.
Any dark horses?
I've had a good study of the draw and just don't see any major upsets this year. I think Finnish player Jarkko Komula gives 30th seed Mark Walsh a bit of trouble on current form, and young Ricky Evans could bother world number 19 Ronnie Baxter if he plays the game he's capable of. But I think the big names will reach the latter stages - my last eight is Taylor v Robert Thornton, Kim Huybrechts v Simon Whitlock, Van Gerwen v Van Barneveld and Wade v Lewis.
Did you know? In 2008, then-world number 142 Kirk Shepherd reached the final of the world championship. Shepherd came through qualifying and in the tournament proper survived a series of near misses. His first round opponent, Terry Jenkins missed seven match darts, while two later opponents also missed match darts.
Who needs a good run?
Andy Hamilton needs a big run as he has a massive £100,000 to defend from 2012 when he was runner-up. For his own peace of mind, 2011 runner-up Gary Anderson needs to get the year off to a great start as does his opponent in the first round Mark Dudbridge, who's yet another player to have fallen just short of winning in the past. There are so many players on the verge of slipping out of the elite that we could see a changing of the guard and an introduction to the next generation.
Did you know? The ranking system is based on earnings in ranking events from the previous two years, so at the start of the 2014 World Championships, the money earned in the 2012 event drops off. Going into this year's event, four of the world's top 10 are separated by just £1,600. Andy Hamilton in seventh has amassed £201,700, while Raymond van Barneveld in 10th is on £200,100.
What are some must see matches? And are there any to miss?
I am looking forward to Burnett v Winstanley as well as Anderson v Dudbridge, Dave Chisnall v John Henderson and Baxter v Evans in the first round. But the pick of the first round games could be former BDO champion Jelle Klaasen against Jamie Caven who's won a number of smaller events this year. If they come through their first round matches, Wade v former BDO champion Mark Webster will be worth watching.
Matches to miss - a few could put a glass eye to sleep! Thank God [notoriously slow players] Justin Pipe and Dennis Smith don't meet in the first round. I'll get some stick over that! In all seriousness it's a great draw and packed with quality.
Did you know? The first round also features a battle of two Belgian brothers - Kim and Ronny Huybrechts. Kim, 28, is the world number 12 and favourite to beat older brother Ronny, 20 years his elder, and the world number 41, although they have both won two of their professional meetings.
The atmosphere, is it too rowdy now?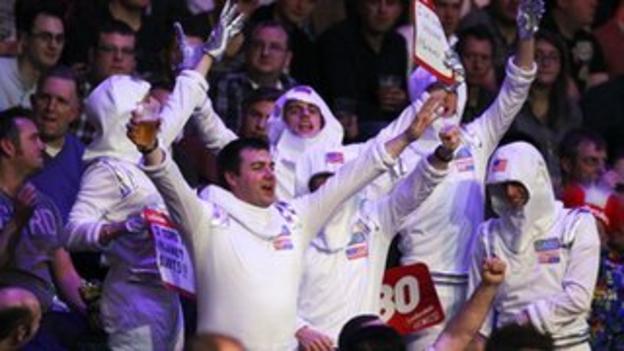 I preferred to play when there was the 'best of order' but really enjoyed the raucous nature of the Circus Tavern [the venue for the PDC Worlds up until its switch to Alexandra Palace in 2008]. The game has moved on so much though and now it's also a night out for people who are not dart fans but just want to experience the atmosphere. When there is a constant noise it's fine but idiots shouting out at stupid moments that affect the results of matches need putting out.
It's all a bit of trade-off. Next year's prize money tops £7 million and without the epic Premier League nights when we see Batman wrestling Scooby Doo for a four-pint glass that wouldn't be possible.
Did you know? Dennis Priestley took home £16,000 for winning the inaugural PDC championship in 1994 and Taylor received £8,000 as runner-up. This year, the seeds will get £10,000 if they win one match to reach the last 32 and the winner will bank £250,000.
Chris Mason was talking to BBC Sport's Jon Barbuti