Jocky Wilson: Remembering the 'Braveheart of darts'
By Stephan Shemilt
BBC Sport
Last updated on .From the section Darts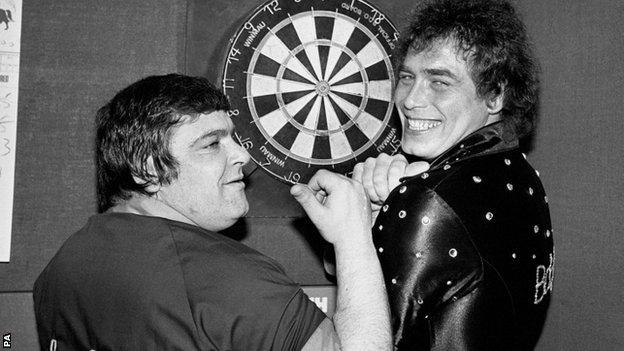 Known as a character in a sport of big personalities, Jocky Wilson certainly walked to the beat of his own drum.
A star of darts' original golden age of the 1980s, two-time world champion Wilson was immortalised through his battles with Eric Bristow.
By the time Wilson completed his legendary victory over Bristow in the 1989 World Championship final - the 'Crafty Cockney' had been 5-0 down but fought back to 5-4 before Wilson won it - the Scotsman, was a household name.
"It's a sad day for darts," three-time world champion Martin Adams told BBC Sport. "Jocky was a great champion and a great player.
"When Jocky was on song, there was no stopping him.
"I remember watching the 1989 final and Jocky was flying that day. He was in the groove.
"It's one of the best matches of all time. There were some great matches in that era and Jocky was involved in a lot of them."
That 1989 final victory was the culmination of a rivalry that spanned a decade, as Bristow and Wilson chalked up seven world titles between them.
For sports fans of the era, the two men are synonymous with one another.
"When he used to play Eric in challenge matches, away from the big tournaments, Jocky won most of the time," said twice beaten world finalist Bobby George.
"He was a good player. He didn't know when he was beaten. He could be 5-0 down and not know. It didn't affect his game. He always carried on until the game was over.
"He probably could have won more, but you only win them if you want to win them. On the day, he either wanted to play or he didn't.
"Some players want to go for the trophies all the time, but Jocky wasn't like that. He won a lot of tournaments, but he didn't push himself."
While the image of darts has changed in recent years - sold-out arenas, walk-on girls, music, special effects and players banned from drinking alcohol on stage - Wilson will remain as a symbol of the sport's roots.
"It was more fun when we played," added George. "He didn't have much money so he didn't travel much.
"I remember once we were playing in America and I picked him up. When I lifted his suitcase, I was braced for the weight, but nearly fell over because there was nothing in it.
"When I asked him what was inside, he replied 'a pair of socks'. I asked why he'd got a suitcase when he only had a pair of socks, he said 'It looks better when you check into a hotel if you're carrying a suitcase'. What a boy!"
And, though the sport has altered since Wilson's heyday, he still serves as an inspiration to today's players.
"He is someone for all aspiring players to be aware of," said Adams. "All youngsters can learn from him and the other great players of his era.
"His performances inspired me. He never gave in and was always in the mix at the business end of any tournament. He was a great player for Scotland - I have major respect for the man."
It was those chances to play for Scotland that seemingly brought the best out of Wilson, his love of playing for his country inspiring the Jocky Wilson Cup - a match held by the PDC between England and Scotland in 2009 that served as a forerunner to the World Cup.
"He was Scottish through and through," said George. "When he played against England, it was great for the Scots.
"He was like the Braveheart of darts. He hated the English and wanted to beat them. He probably only got on with me because my mum was Scottish. He really turned it on when he played against England. He fought for the Scotsman in him."
And what of Wilson's legacy?
"We all have our time, the time in which we compete," concluded George. "The time that Jocky played in will be how we remember him. He was one of the greatest of his time."