James Hubbard upbeat after Phil Taylor loss
Last updated on .From the section Darts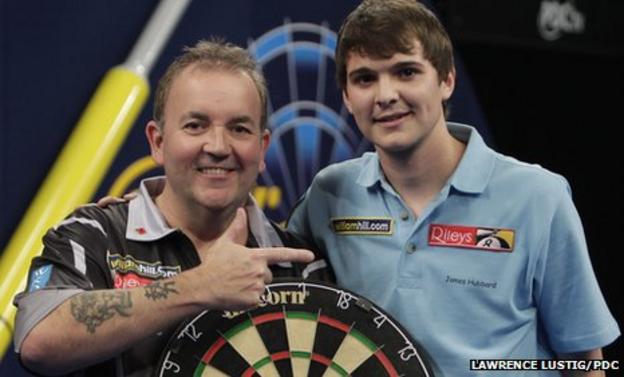 Teenager James Hubbard is confident his televised debut against 15-time world champion Phil Taylor has made him a stronger player.
The 19-year-old lost 5-1 to Taylor in their Grand Slam of Darts group match.
He told BBC Radio Norfolk: "Hopefully now I should settle down on the stage, hit my doubles and take my chances.
"I got to the walk-on and the adrenaline kicked in and I felt fine. But as soon as they said 'game on' I got a little bit nervous."
The Wymondham youngster, who will compete in next year's World Youth Championship final, notched his only leg thanks to an unorthodox five-point checkout.
"I left five and I was saying to myself 'don't miss the one'. I aimed high and hit double one," he explained.
"That left me three and I went one, double one. I didn't mean to do it but it worked."
And Hubbard, son of former professional Vic, could have made it a closer affair had he not squandered four chances to secure what turned out to be the final leg.
"I got a little bit nervous when it got down to the doubles," he admitted. "I think it's probably because I was playing Phil Taylor."
Hubbard will now face fellow Norfolk player Mervyn King and Steve Beaton.