Tour de France: 2018 winner Geraint Thomas welcomes postponement
Last updated on .From the section Cycling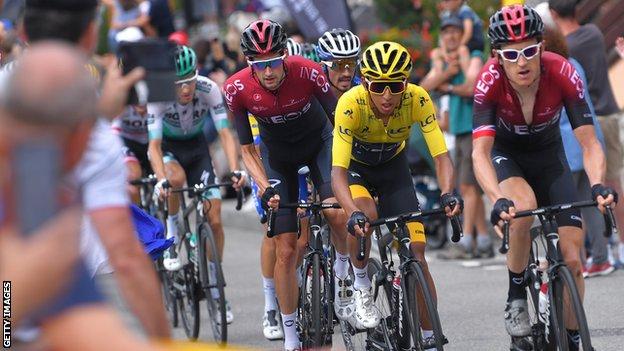 Geraint Thomas says he welcomes the Tour de France being postponed until August and September because of the coronavirus epidemic.
It will now start on 29 August and finish on 20 September in Paris.
"It's great news. If it can still go ahead, that's fantastic for the sport," said Thomas.
Thomas won the 2018 Tour de France and finished runner-up last year behind Ineos team-mate Bernal.
"We heavily rely on (the Tour) to do our jobs really and it's also good for the fans you know," said Thomas.
"I've really missed watching rugby and football games so I think if it can return, and we can all get back to racing, I think it's great all round.
"It will be a great showcase of getting over a challenging and horrible period for the whole world.
"It's just crazy how this has all developed and yeah it would be great to do it. There's still a bit of uncertainty in there because of the the way the last few weeks have gone.
"It's good to have that date in your head and you can really start to work towards that. Once we get back training on the roads like normal it will be a great feeling."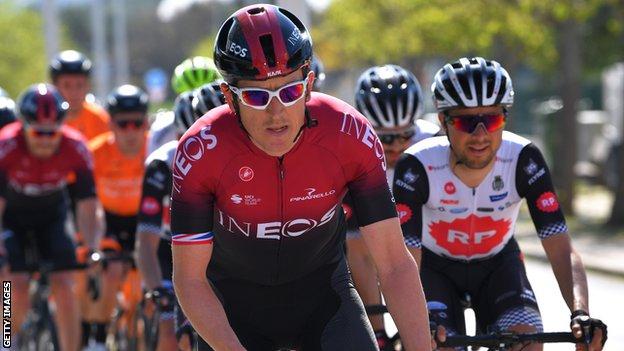 Cycling's two other three-week Grand Tour races have also been rescheduled for later this year, as part of a plan by the UCI to stage all major cycling races this season.
The Giro d'Italia - which was scheduled to take place in May - and the Vuelta a Espana, originally set for September, will now be raced after September's World Championships.
The championships, which will be held in Switzerland, remain in their 20-27 September slot, which means the Tour de France will finish on the same day that the week-long championships begin so there could be a significant clash.
"That is a big dilemma," said Thomas.
"Once we get clarity that races can go ahead then there'll be a process of negotiating between the governing bodies, race organisers, teams and trying to get the best programme that works for everyone.
"From my point of my view and a lot of riders I have spoken to, I think the main thing is if the Tour can go ahead, that's sort of like the pinnacle of the sport and that's why sponsors come into the sport, it's because of that race."
With Team Ineos unable to race competitively or train together, Thomas has returned to Cardiff with wife Sara and six-month-old son Macs and has taken on a charity ride to raise money for the NHS,.