Dr Richard Freeman 'bullied by Shane Sutton to order testosterone' hearing told
By Jack Skelton
BBC Sport at the hearing in Manchester
Last updated on .From the section Cycling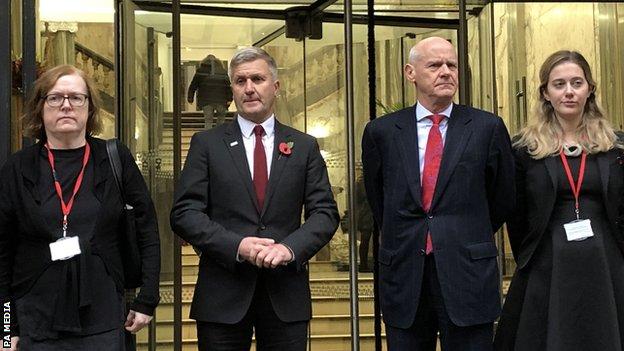 Shane Sutton "bullied" Dr Richard Freeman into prescribing testosterone, the ex-British Cycling and Team Sky medic has claimed.
Freeman is facing an allegation he ordered 30 Testogel sachets to British Cycling headquarters in 2011 knowing or believing it was intended for an athlete to enhance performance.
But a medical tribunal heard the testosterone was for former British Cycling technical director Sutton.
Sutton denies the claim.
"Shane Sutton specifically requested that I prescribed him Testogel," said Freeman's witness statement, which was read to the hearing.
"I was bullied into prescribing it for him."
The prosecution opened its case against Dr Freeman on day two of the Independent Medical Practitioners Tribunal in Manchester.
The General Medical Council's lawyer Simon Jackson QC quoted Dr Freeman's claim from his witness statement, written in September, that Dr Freeman's team says is now "the truth".
Mr Jackson said that in Sutton's statement, the Australian claims he did receive treatment and prescriptions from Dr Freeman but that those did not include Testogel and that he never discussed this treatment.
The prosecution said Sutton, who is scheduled to appear as a witness on Monday and Tuesday, has become "Dr Freeman's scapegoat to cover up his earlier misconduct".
Dr Freeman also claimed in his statement that the Testogel was used to treat Sutton's erectile dysfunction.
Mr Jackson said Sutton denies this and the GMC's case is that it was instead used for "micro-dosing" as a way of improving an athlete's performance.
The prosecution said Sutton will produce British Cycling medical records to prove he did not require testosterone and that the opinion of an expert endocrinologist is that Sutton did not have a condition that required treatment with Testogel.
Mr Jackson also said there was a long-standing dispute between Dr Freeman and Sutton over the repayment of costs of a long-haul flight Dr Freeman had taken for personal reasons.
Witness testifies over testosterone order
Dr Freeman has admitted to 18 of the 22 allegations against him, including that he asked supplier Fit4Sport to falsely claim the Testogel has been sent in error.
The tribunal heard for the first time more details of the steps Dr Freeman took after the testosterone was first discovered by former British Cycling physio Phil Burt in May 2011.
In his statement, Burt recalls bringing the package to the attention of former British Cycling head of Dr Steve Peters, who was in his office with Dr Freeman, and that an "aghast" Dr Freeman said, "No, we shouldn't have this - this is a mistake."
Dr Freeman then called Fit4Sport's Trish Meats, who he had ordered the testosterone from, to ask for her to send him confirmation that it had been sent in error, returned and destroyed, despite this not being the case, as Dr Freeman now admits.
Meats sent the email, obtained by the BBC in January, and Dr Freeman then showed it to Dr Peters, who said he was satisfied by the explanation.
In her witness statement, Meats said the initial order was "nothing out of the ordinary" and that she trusted Dr Freeman because he is a doctor, but that his subsequent call was "out of the ordinary".
She added that Dr Freeman was "friendly" as usual on the phone and that he gave no indication it was her error so assumed it was "some internal thing at British Cycling", who she said were a "very important client".
The prosecution claimed that Dr Freeman was applying "soft pressure" on Meats to get himself "out of a situation of his own making".
Meats added that the Testogel was never returned and remains debited to British Cycling's account.
In response to the prosecution's case, Dr Freeman's lawyers Mary O'Rourke QC said the GMC has "reached conclusions that are not sustainable" and that she will call Burt and Dr Peters as witnesses in addition to Sutton.
Freeman team seek Daily Mail document
Before the prosecution started making its case, Miss O'Rourke said she will ask the GMC to make a section 35A legal application to the Daily Mail to release an alleged document that relates to the case.
Miss O'Rourke claimed the document is a "witness statement or affidavit" signed by Sutton, relating to a story published by the newspaper and provided as an "insurance policy against any claims of defamation" by Bradley Wiggins, Dave Brailsford and Dr Freeman.
She added its relevance to this process is that the document allegedly "contains a number of lies" and is "inconsistent" with Sutton's subsequent evidence to a parliamentary committee.
The Digital, Culture, Media and Sport (DCMS) select committee report in 2018 said Team Sky had "crossed an ethical line" but was unable to determine the contents of the Jiffy bag delivered to Dr Freeman at the 2011 Criterium du Dauphine, allegedly for Wiggins.
Both Wiggins and Team Sky, who are now called Team Ineos, have always strongly denied any claims of wrongdoing over the long-running saga.
The Daily Mail will have 14 days after receiving the application to send the GMC any document.
The hearing continues.