Para-cycling World Championships: Sarah Storey criticises security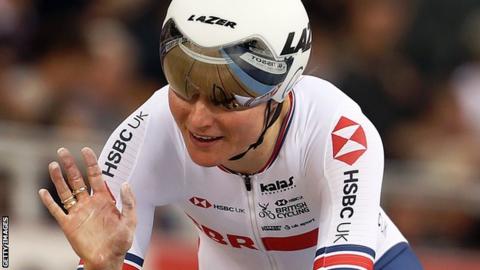 Paralympian Sarah Storey has criticised the organisation of the UCI Para-cycling World Championships after defending her WC5 time trial title.
Storey, 41, tweeted she was concerned "with the low level of security" at the event held in Emmen, Netherlands.
She added the time trial on Thursday saw cars and people "crossing junctions seconds before riders approached".
"It's a delicate exercise, especially at crossing points where riders arrive every minute or so," the UCI responded.
Fourteen-time Paralympic and world champion Storey, who won in 29 minutes 41.90 seconds, added: "We've been plonked in a town that's carrying on as normal.
"This scenario wouldn't be acceptable for the non-disabled World Champs.
"If the event isn't financed properly to close these roads fully, the UCI needs to start investing to bring it up to standard.
"It's one thing to say there's no prize money due to financial constraints, but quite another to risk rider safety for that reason too."
UCI spokesman Louis Chenaille said that security needs had been "increased" and "adequately met thanks to measures put in place" and that the Para event had been held downtown whereas the non-Para event had been held outside the city.
He said that in doing so, the UCI had made "significant efforts to highlight the competition by bringing the time trial downtown for the first time".
"We find it unfair to criticise the level of organisation given the significant efforts deployed by the organisers in this domain, and the work of the municipality of Emmen to raise awareness of Para-cycling by implementing initiatives in schools and side-events such as handbike testing for the public," he added.
In addition to Storey's gold, Britain won four other medals on Thursday in the Netherlands.
Steve Bate and Adam Duggleby finished with a silver medal in the defence of their tandem time trial title as Dutch pair Vincent ter Schure and Timo Fransen finished 27 seconds ahead of their time of 36:44.50.
Fellow tandem pair Lora Fachie and Corrine Hall added to Britain's haul with bronze while Ben Watson eventually won bronze in his MC3 time trial after initially finishing fourth before being moved up a place due to a timing error.
Finally, in the WC1 category, Katie Toft claimed another British silver medal as she fell 30 seconds short of China's Wangwei Qian in 37:59.26.