European Games: Hayley Simmonds claims time trial bronze
Last updated on .From the section Cycling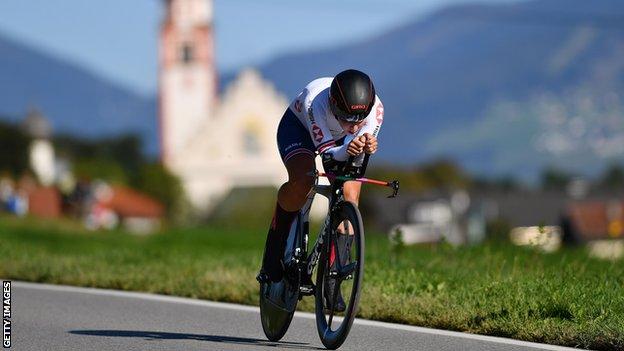 Great Britain's Hayley Simmonds says she overcame her race anxiety to win a bronze medal in the women's cycling time trial at the European Games.
The 30-year-old, a bronze medallist at last year's Commonwealth Games, edged out team-mate and fourth-placed finisher Alice Barnes by 0.81 seconds.
Switzerland's Marlen Reusser won in 36 minutes 17.41 seconds, with Chantal Blaak of the Netherlands second.
"I'm just really happy to finish on the podium," said Simmonds.
"When I see my name on the board back at HQ, I'll probably start crying.
"I get really bad race nerves and anxiety so I just tried to keep myself calm and think of how I felt at the Commonwealth Games."
Overall, Britain enjoyed a successful day five of the multi-sport games, with triumphs in a number of disciplines.
There were boxing victories for Calum French, Luke McCormack, Ben Whittaker and Cheavon Clarke, but Aqeel Ahmed lost on a split decision.
On the water, Tom Lusty finished third out on the regatta course to qualify for Wednesday's men's K1 1,000m final, while women's C2 500m duo Chloe Bracewell and Katie Reid overcame a race delay and lane change in the semi-finals to finish second and progress to Thursday's final.
Elsewhere, the British badminton team won their second matches in the group stage, but Corey Walkes narrowly missed out on a place in the individual trampoline competition.