Team Ineos: Company will pull backing if team caught cheating or doping - Sir Jim Ratcliffe
Last updated on .From the section Cycling
Ineos will pull its backing if its new cycling team are caught cheating or doping, says owner Sir Jim Ratcliffe.
Team Sky formally became Team Ineos on Wednesday, having enjoyed unrivalled success with Sky's decade-long backing - winning eight Grand Tours.
But they have also faced several controversies and allegations of cheating.
"We did our due diligence. I have absolutely no interest in cheating or drugs," Ratcliffe told BBC Sport.
"The day that any of that enters our world we'll be exiting that world."
Four-time Tour de France champion Chris Froome had an anti-doping case brought against him and subsequently dropped by the UCI, cycling's world governing body, while former rider Sir Bradley Wiggins has faced questions over his use of medical exemptions for the drug triamcinolone to treat allergies.
The UK Anti-Doping Agency conducted a 14-month investigation into a 'mystery package' delivered to then team doctor Richard Freeman on the final day of Wiggins' successful Criterium du Dauphine bid in 2011, and brought no anti-doping charges.
Team Sky, Froome and Wiggins deny any wrongdoing in all three cases, and Ratcliffe - Britain's richest man - said he had spoken to general manager Sir Dave Brailsford about the issues.
"What's the point of winning a race if you cheat? There's no point in that really," Ratcliffe told BBC sports editor Dan Roan at the team's launch in Yorkshire.
"Also, I believe that if you have the best athletes in the world and the best training regimes, there's no need for any of those enhancements."
Ratcliffe, who founded chemical company Ineos, added that people "shouldn't condemn the sport" because of the prevalence of doping in cycling's past.
"It had turned a corner, it's the only reason we're there," he said.
"We did all our homework and have got procedures and people we are comfortable with."
'Takeover is not greenwashing'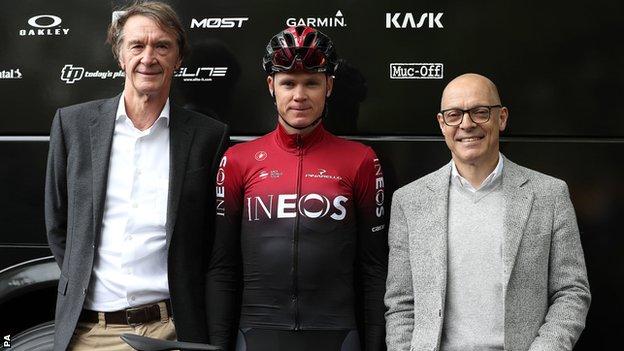 Ratcliffe and Team Ineos principal Sir Dave Brailsford spoke at a news conference which was held at a secret location in order to prevent the attendance of protestors.
Ineos owns licences to conduct fracking at several locations across Yorkshire.
Ratcliffe said he would be disappointed but "wouldn't be totally surprised" if there are protests against the team during the Tour de Yorkshire, which runs from Thursday until Sunday.
He also defended his company's operations, saying Ineos has pioneered new methods of recycling plastic, adding that the majority of environmental groups he has met with are "ignorant" on the facts on fracking.
Environmental group Friends of the Earth said in a statement it was "concerned" over the new sponsorship and cited previous comments by Brailsford which stated the sport has "a special responsibility to the environment".
In an open letter, Friends of the Earth chief executive Craig Bennett said Ineos was attempting "to greenwash its highly damaging and polluting activities".
In response to accusation of greenwashing, Ratcliffe said: "It's got nothing to do with it at all.
"We have one half of our business where we have to deal with those issues - you're talking about plastic waste and fracking - we do have to deal with those things, but the sport thing is totally different."
Brailsford said he is "very comfortable" with the ownership of his cycling team and that it did not contradict their previous commitment to Sky's pledge to remove all single-use plastic by 2020.
"Ineos are not dumping the plastic in the ocean, what they are doing is they can change the process of manufacturing to try and make everything more recyclable," he told BBC Sport.
"There is an opportunity with Jim to be part of the solution.
"Is it inappropriate? I don't think it is. We haven't reneged in any way shape or form on our single-use plastic goals."
He added: "I'm not an expert in chemicals; I'm an expert in trying to make Chris ride his bike faster. But when I did come to educate myself, I realised there's a very simplistic view and when you dive down into it and take the effort you can find out there's a very different view.
"I'm very comfortable with the situation we're in."
Brailsford said the team's new branding was beneficial "in some respects" as a clean slate after past controversies, but added: "It's the same team and same philosophy. New owner and we're moving forward into a bright new future."
Froome said questions should be asked of other teams with similar backers. Petrochemical companies Total and Gazprom both sponsor professional cycling teams.
"If you can ask so much of certain sportspeople and not others, especially when there are other energy companies in the peloton and not a word is said to those teams or riders, then I don't think this is fair," he said.
'Never say never on Chelsea' - Ratcliffe
Ratcliffe said he is a "tortured Manchester United fan" but has previously been linked with a £2bn bid to buy Chelsea from current owner Roman Abramovich.
When asked if he remained interested in buying Chelsea, he said: "You never say no, but I don't know where those conversations will finish."
In 2017, Ratcliffe bought football club FC Lausanne-Sport, who play in the Swiss second tier.
"We've dipped our toe in the water with football, it's a very different sport," he said.
"It's quite a complicated sport and world, so we're in the process of learning. We haven't got to where we've got to in our chemicals and business world by being rash and impetuous and stupid, obviously.
"We're not in a desperate hurry to get to the end game in football."