Jess Varnish evidence to be heard at Manchester Employment Tribunal
Last updated on .From the section Cycling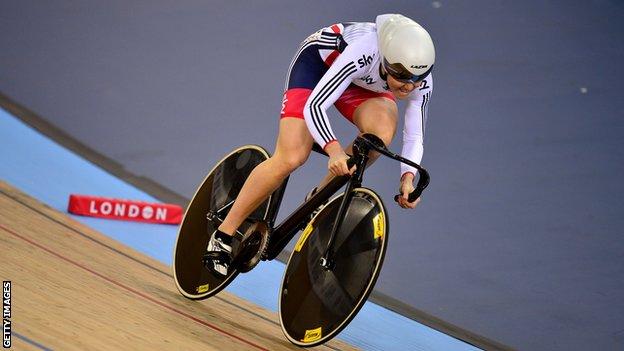 Jess Varnish will call British Cycling's controversial former chief medic Dr Richard Freeman to give evidence to a tribunal on Tuesday.
The tribunal will consider if, as an athlete in receipt of UK Sport funding, she was self-employed or an employee.
Should it be ruled that Varnish was an employee, the parties would reconvene for a tribunal in 2019.
The hearing in Manchester is expected to last until 17 December.
Freeman, who is the subject of a General Medical Council investigation, is one of three witnesses Varnish is set to call to give evidence. The others are her boyfriend and ex-GB BMX champion Liam Phillips and her agent James Harper.
Freeman was the doctor who received a mystery medical package for Sir Bradley Wiggins at a race in France in 2011. Last year he pulled out of giving evidence to a parliamentary committee hearing on Team Sky due to ill health.
He denied any wrongdoing in an interview with BBC Sport in July after resigning from British Cycling because of a stress-related illness in October 2017.
Simon Fenton, representing Varnish, said her case is "she was an employee (or worker), with the right not to be discriminated against".
He added: "This case comes in a line of decisions from the cases of Uber, Addison Lee and Pimlico Plumbers which show how tribunals are looking at what actually happened in practice rather than simply accepting what is said in the contractual documentation. And they are deciding that the individuals are workers."
On Monday both sides in the dispute spent the first day of their employment tribunal reading each others' paperwork, with Varnish's camp receiving 4,000 pages of documents from their opponents on Sunday.
Varnish was omitted following the 2016 Track Cycling World Championships in London, after the two-woman, two-rider team sprint squad she was part of failed to qualify for the Rio Olympics.
She alleged sex discrimination against Shane Sutton, then the technical director of British Cycling, who was found to have used sexist language towards her.
Sutton resigned but was later cleared of eight of nine allegations.
A UK Sport spokesperson told BBC Sport the organisation had been "advised that we are unable to comment while these legal proceedings are taking place".
British Cycling said it had no comment to make before the hearing.
Analysis
Dan Roan, BBC sports editor
Varnish will call three witnesses as she and her lawyers try to show that she was subject to the kind of control and restrictions that meant she was effectively an employee of British Cycling - and therefore should have had protection against discrimination. British Cycling and UK Sport will seek to show the tribunal that publicly-funded athletes are self-employed, and not afforded such rights.
This could be just as important a landmark case to British Olympic and Paralympic sport as the Bosman ruling was to football back in 1995 when it allowed players to be free agents after their contracts expired
If the tribunal finds in Varnish's favour, not only could she be awarded compensation for lost earnings - it may have major repercussions for hundreds of other athletes. UK Sport may become liable for backdated pensions and tax contributions of other athletes - and then have to cut the numbers who receive support. UK Sport currently treats athlete funds as if they are student grants - with no tax having to be paid. But all that could change if Varnish prevails.
In terms of medals, the current funding system has proved highly successful, but critics say it leaves athletes too vulnerable, and it is now under threat like never before.