Geraint Thomas says 'let road decide' as Team Sky leader with Chris Froome
Last updated on .From the section Cycling
Tour de France champion Geraint Thomas believes he and Chris Froome can both compete for Grand Tours while riding for Team Sky.
Froome, 33, was initially the lead rider, but after Thomas eventually claimed that status Sky face a dilemma in who fills that position next year.
"We both need to decide what we are doing first," Thomas told the BBC.
"I can imagine he (Froome) will want to go to the Tour 100% because he will want to get the record of five Tour de France wins.
"I am keen to go back and enjoyed wearing and winning the yellow jersey.
"I think we can do similar the same as this year. He was a bit ahead of me in the leadership.
"But the way we raced I think we can do the same as this year and not race against each other. I think it can still work.
"As long as we are open and honest as we were this year, as they say let the road decide and the best guy will come out on top."
Working together
Thomas admits in his book - The Tour According to G - that he initially found it difficult when Sky's instructions were to protect Froome, even when Thomas was leading the race.
The Welshman accepted their reasoning and, once he was clearly ahead, Thomas said Froome was fully supportive of him in the latter stages of the Tour.
In May, Froome had clinched his first Giro d'Italia, becoming the seventh cyclist to win all three Grand Tours.
It is possible that Froome's exertions in Italy - particularly his extraordinary stage 19 victory - may have hindered his bid to win a fifth Tour de France in July, and that he may choose to concentrate on the Tour next year.
If that was to happen, Sky could consider giving Thomas the lead status for next year's Giro.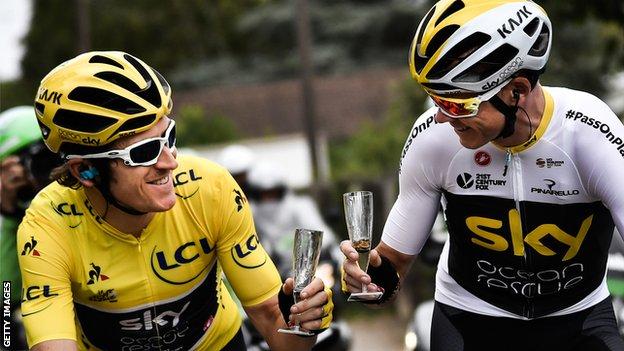 The 2017 Giro was the Welshman's first experience of leading Sky in a Grand Tour and, having crashed out of that race, the 32-year-old has indicated he feels he has unfinished business in Italy.
"There is also the Giro d'Italia as well a couple of months before," Thomas said.
"That is in May and I will have a look at the Tour in depth. Over the next few weeks I will decide what I want to go for 100%.
"I am pretty sure I will go back to the Tour. It will just depend on what shape I am and whether I have done the Giro before."
Life after cycling
Thomas has also enjoyed his time off and has met footballer Lionel Messi after attending a Barcelona game, and also gave World Cup-winning New Zealand rugby union player Dan Carter a signed yellow jersey.
The Welshman has also stated he wants to do marathons and an Ironman when he retires.
"I wouldn't want to do one thing," said Thomas.
"Chris Boardman does lots of different things. That variety would be key. I'm so used to travelling around and not being in more than one place for two weeks.
"If I was just living in Cardiff, doing the same thing day after day, it would be too much of a shock to the system.
"I want to do marathons, I want to do an Ironman. That'll be something physically to wean me off being a professional cyclist.
"I've done a couple of runs in the off season and can barely walk the next day. A different part of me aches. It'll take some getting used.
"Initially I want to do it just to do it but when you start looking at times you'll get more into it, more serious, probably end up treating it as serious as I do a bike rider.
"I'd love to do it, especially the Wales one. The bike route on that is pretty hard so that'll be nice for me."