European Championships 2018: BMX racers born and bred in Peckham
Last updated on .From the section Cycling
2018 European Championships
Venues:
Glasgow and Berlin
Dates:
2-12 August
Coverage:
Live across BBC TV, BBC Radio 5 live and sports extra plus the BBC Sport website with further coverage on BBC iPlayer, Red Button, Connected TVs and mobile app.
The district of Peckham, in south-east London, has struggled with youth violence and anti-social behaviour in recent years, including a double stabbing within 24 hours in July.
But within the district stands a small dirt track, home of Peckham BMX Club, which has produced 70% of the British racers in the Olympic programme.
BBC Sport went to meet Kye Whyte and Quillan Isidore - two Peckham residents who will represent their country at the European Championships in Glasgow.
'We chose the good route - now we're here riding bikes'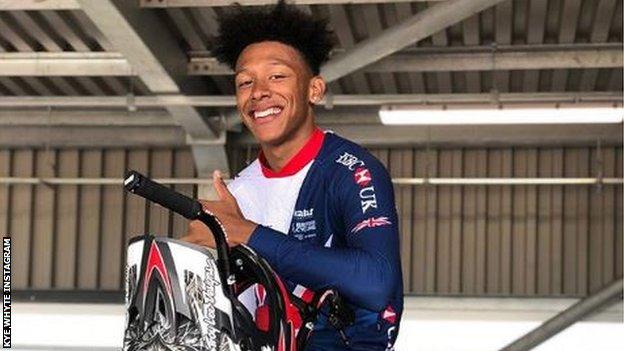 Whyte has been selected as the youngest member of the six-strong team, who will compete at the new Glasgow BMX Centre on 10 and 11 August.
The 18-year-old started competing 14 years ago and won 10 consecutive British junior titles on his path to the senior level.
"My dream is to be European champion, world champion and Olympic champion. I want to win every title possible," he said.
BMX runs in the family. His brothers Daniel and Tre are racers, and his dad Nigel helped start the Peckham club alongside DJ entrepreneur CK Flash.
"It's not the best of places to grow up," Whyte said of his home town. "It's a crazy place to be, but we chose the good route and now we're here riding bikes.
"BMX is definitely my thing, but if BMX wasn't the route for me, I couldn't tell you what I'd be doing. I would probably be working or getting an apprenticeship at this age like most lads do, or doing silly things."
Whyte has also had to deal with injury setbacks in his career - he was out of action for 10 months in 2013.
But broken bones are all part of the sport.
"At the start of the year on the first day of the World Cup, I had a crash and broke my collarbone," he said. "It was probably the most usual injury, because I've done it once both sides.
"My worst crash was probably when I was knocked out for a week and I had a bleed on the brain, a broken jaw, and the whole left side of my face was scarred.
"It was a hard route back; it took me nearly two years to get back into competitions again, so I didn't ride for a year.
"I finally got on my first session back, that's when I felt like quitting because I was so slow; people I could beat were beating me.
"I was sick, I didn't think I could do it, but you've got to believe in what you want."
'People have literally had their lives saved'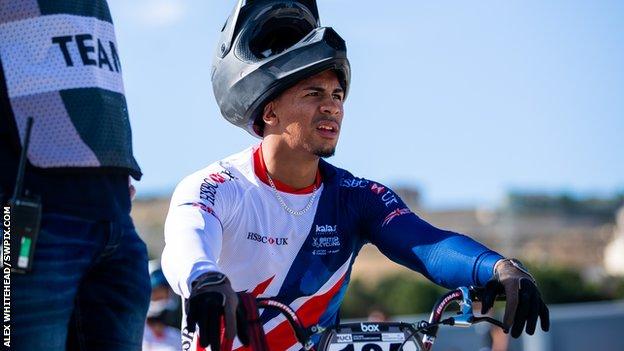 A keen BMX racer since the age of nine, Isidore is a former under-16 world champion and multiple national champion.
The 21-year-old has battled to prove himself since he missed out on qualification for the Rio Olympics in 2016 and has bounced back from breaking his leg last year.
"Now, I'm more confident, I'm a couple of years older and I'm more experienced so all that works hand-in-hand," Isidore said.
"It's my life. It's all I do, it's what I grew up doing. I just want to be the best I can be and I want that to be being the fastest person in the world."
Growing up, Isidore faced a lot of of problems in Peckham but has nothing but praise for the club where he trained.
"It's not the best area, and we've had kids come in to the club who have literally had their life saved because of the stuff that goes on and all the gangs," said Isidore.
"You can easily get led astray from going down the right path. The mentality of Peckham is not just to be successful in BMX, but to be successful in life.
"We've just got a really good work ethic as a club, and the coaches there are really good. They care so much about the kids and not just how they do in BMX, but they're also teaching them life skills."
Isidore came fourth at a World Cup event this year, and believes he's peaking at the right time for Glasgow.
"I've had my best season so far on the World Cup circuit," he added.
"I've delivered what I'm capable of and that's what I've always struggled with.
"When I go into any race, a big race, that's what I am striving for. I know that if I can deliver my best, then I will be successful."