Bradley Wiggins says he has discovered 'sinister and shocking' details about 'jiffy-bag' controversy
Last updated on .From the section Cycling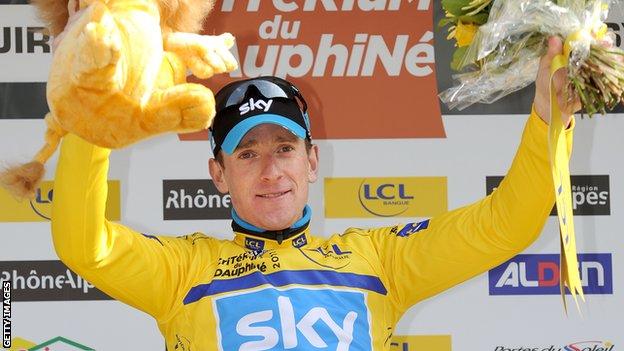 Sir Bradley Wiggins says he has discovered "very sinister" details about the 'jiffy-bag' scandal and the leak of his medical records and would "love it to all come out".
Two investigations failed to prove the contents of a medical package delivered for Wiggins at a race in 2011.
The 2012 Tour de France winner's therapeutic use exemptions (TUEs) were released by hackers in 2016.
"We're still not at the bottom of it," the Briton, 38, told ITV4.
"There are things that have come to light that are quite scary actually and it's very sinister.
"We're finding new stuff out daily. I'd love it to all come out. Once it's all stacked up and pieced together, it's quite shocking."
However, Wiggins refused to share more specific details because some claims he has heard remain "unsubstantiated".
"Rather than doing what has been done to me, I want to piece it all together first, get my facts right and then we'll make a documentary about it or something and get to the bottom of it," he said.
How the saga unfolded
Wiggins and Team Sky came under scrutiny after the Fancy Bears hacking group leaked documents in September 2016.
Those documents showed the five-time Olympic champion had sought TUEs to use banned anti-inflammatory drug triamcinoclone for allergies and respiratory issues shortly before the 2011 Tour de France, his 2012 Tour win and the 2013 Giro d'Italia.
The UK Anti-Doping Agency (Ukad) then conducted a 14-month investigation into a 'mystery package' received by former British Cycling and Team Sky doctor Richard Freeman for Wiggins on 12 June 2011. That was the final day of the Criterium du Dauphine, an event Wiggins won.
It was alleged that package contained triamcinolone, which if administered to Wiggins that day without a TUE, potentially would have resulted in an anti-doping rule violation and the Briton being stripped of his 2012 Tour title.
Team Sky boss Sir Dave Brailsford informed a parliamentary committee that Dr Freeman had told him the package contained fluimucil, a legal over-the-counter decongestant. Dr Freeman reiterated that claim this month to BBC Sport.
Both the Ukad investigation and the Digital, Culture, Media and Sport (DCMS) select committee report were unable to state what was in the package.
However, that report did claim Wiggins and Team Sky "crossed an ethical line" by using drugs allowed under anti-doping rules to enhance performance instead of just for medical need. Both Wiggins and Team Sky "strongly refute" that claim and deny any wrongdoing.
Speaking to ITV4 during their coverage of the Tour de France on Saturday, Wiggins reiterated he did not know what was in the package as it was not delivered to him.
When asked if Team Sky could have handled the TUE and 'jiffy-bag' cases better, Wiggins said: "Probably, in terms of record-keeping."
The DCMS select committee report in March criticised Team Sky for a "serious failure" in lacking records of the medication sent, while Dr Freeman is unable to back up his claim the package contained fluimucil, as his laptop containing medical records was stolen in 2014.
In response to that criticism, Team Sky said they take "full responsibility for mistakes that were made" and have subsequently taken steps to put them right including "the strengthening of [their] medical record keeping."
Wiggins also repeated the criticism of the DCMS select committee report that he made to BBC sports editor Dan Roan in March.
"The report was fabricated stuff and it seems that they used parliamentary privilege to get it through legally," Wiggins told ITV4.
In response, DCMS select committee chairman Damian Collins told The Observer: "We received evidence from people who did not wish to be named. It was made clear where we relied on anonymous sources, and we trusted them as being credible. People can read the report and come to their own conclusions."