Team Sky boss Dave Brailsford says UCI president has 'French mayor mentality'
Last updated on .From the section Cycling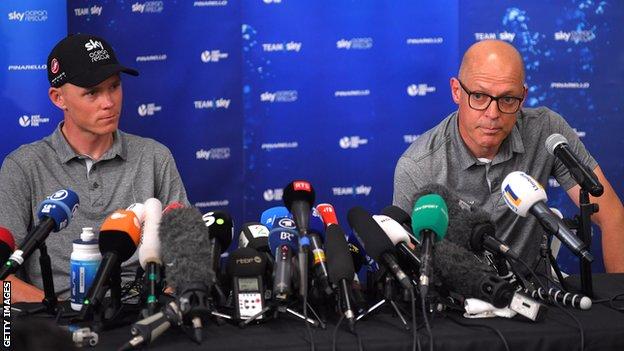 Team Sky boss Sir Dave Brailsford says UCI president David Lappartient needs to learn what his "responsibilities" are, while accusing the Frenchman of having a "nationalistic view."
Cycling's governing body dropped the case on Monday.
"He's still got the local French mayor mentality, maybe," said Brailsford.
Lappartient, 45, is the mayor of the French commune Sarzeau, where stage four of this year's Tour de France finishes on Tuesday.
Speaking prior to stage two on Sunday, Brailsford said: "If you want to be the president of an international federation, protect everyone in that international community - don't take a French angle, or a nationalistic view.
"He's still learning that really. The quicker he can get there and learn what a president of an international federation's responsibilities are, the better it will be for everyone, but he's got some work to do."
'He should welcome big sponsors'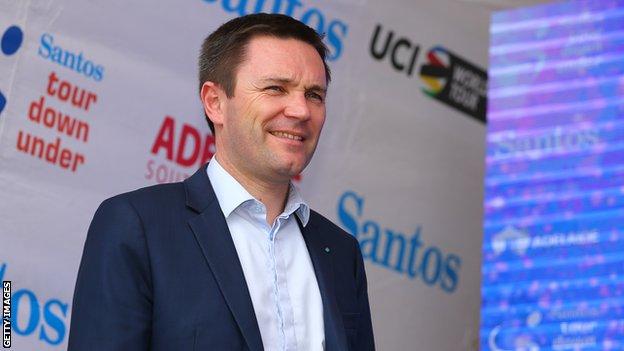 Team Sky leader Froome had been under scrutiny for having more than the allowed level of legal asthma drug salbutamol in his urine during his Vuelta a Espana victory in September.
The UCI, on the advice of the World Anti-Doping Agency (Wada), dropped proceedings against the four-time Tour de France winner on Monday following a nine-month investigation.
Lappartient told BBC Sport that "Froome had more financial support to find good experts to explain the situation" and that it was a "reality of life unfortunately" the outcome of cases could be affected by the resources the rider involved is able to call on.
"If I were in charge of the UCI I'd want major international sponsors to come from other sports to this one," said Brailsford.
"I'd by trying to attract the big guys, not criticising them for their resources - you should be getting more resources into the sport.
"And if that resource enables you to refine or test some of the regulations where riders who haven't got the funds have a false positive, if that were me I'd be saying, 'Thanks very much for that investment, because I think we can use this and keep on developing everything to make our rules better'.
"And if we're looking to protect innocent riders then we don't want false positives. And if someone can help support that, then well done. I wouldn't be taking the angle that there is one rule for one and one rule for another."
Lappartient said the UCI is "neutral" when assessing evidence presented to them and has "the same behaviour" in its investigations whether "it's a small rider or Chris Froome, a small team or Team Sky".
'He has contradicted himself'
Brailsford said it "would be better" if Lappartient was "clearer" over whether the details of Froome's case could be published.
When asked on Thursday if Team Sky would release the evidence used in Froome's case, Brailsford said it is up to the UCI and Wada to publish the details.
Lappartient said he would be "very happy" to publish the reasoned decision on Froome's case but required the permission of the rider, although the UCI added in a statement on Friday that there are "important reasons" why Wada does not publish such information, including to avoid it being abused by riders looking to cheat.
"He has contradicted himself a few times with some of the things he's saying," said Brailsford.
"One minute it's 'we can release stuff', the next minute it's 'we can't'."