Chris Froome: UCI president says Team Sky's wealth helped them fight case in way other teams could not
By Patrick Nathanson & Jack Skelton
BBC Sport
Last updated on .From the section Cycling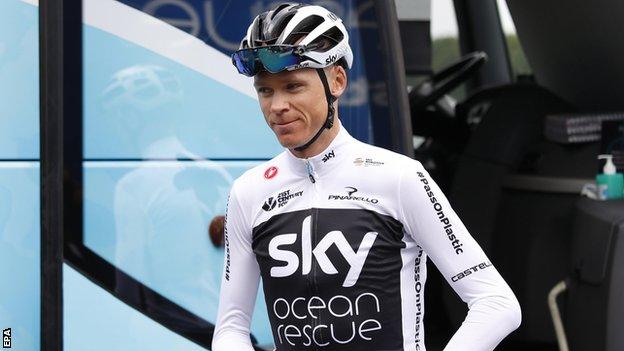 Team Sky's wealth allowed them to fight Chris Froome's asthma drug case in a way other teams could not have done, says UCI president David Lappartient.
He had been under scrutiny for having more than the allowed level of legal asthma drug salbutamol in his urine.
"Froome had more financial support to find good experts to explain the situation," Lappartient told BBC Sport.
He said it was "a reality of life unfortunately" that the outcome of cases could be affected by the resources the rider involved is able to call on, with poorer teams less able to secure justice.
"Maybe situations like this happened in the past," added the Frenchman.
However, Lappartient said the UCI is "neutral" when assessing evidence presented to them and has "the same behaviour" in its investigations whether "it's a small rider or Chris Froome, a small team or Team Sky".
Froome, 33, denied any wrongdoing throughout the process and is targeting a record-equalling fifth Tour title when the 2018 edition of the race starts on Saturday.
'It took too long'
Lappartient admitted the case could have been handled better because it took "too long" and there was "too much pressure" waiting for the result, with Froome winning the Giro d'Italia in May while the investigation was ongoing and a ban remained a possibility.
He said it took nine months to reach a decision in part because Froome "brought a lot of experts with him to try to demonstrate that he's not guilty" but also because the UCI was waiting on answers from the World Anti-Doping Agency (Wada), on whose advice the governing body decided to drop the case.
"We were in the middle of a big battle between Team Sky and the test itself and Wada," said Lappartient.
When asked if Team Sky would release the evidence it submitted, team principal Dave Brailsford said: "The people that made the decision were the UCI and Wada, not Team Sky, and that's where the information about how that decision was made should come from, not necessarily ourselves."
Lappartient said he would be "very happy" to publish the full reasoned decision but the UCI requires the agreement of Froome and has not yet received it.
Writing in French newspaper Le Monde on Friday, Froome said: "I would welcome the publication by Wada of the scientific studies they relied on both to create the current testing regime and to exonerate me."
The scientist responsible for Wada's salbutamol limits has said the rules are flawed and, while Lappartient said Wada should discuss whether the regulations need to be reassessed, he "could not agree" this case proved anti-doping had failed.
"Cycling is the sport of anti-doping," he said. "If you compare cycling today to 10 years ago, 20 years ago, you'll really see now real cycling.
"We have called on Wada to add tramadol and glucocorticoids to the banned list - this will be a new step and the UCI is at the front of the bunch."
'We have to judge by current rules'
Wada permits athletes to have up to a 'decision limit' of 1,200 nanograms per millilitre of salbutamol in their urine.
Four-time Tour de France winner Froome originally returned a reading of 2,000ng/ml during his Vuelta a Espana win in September, though this was reduced to 1,429ng/ml when taking dehydration into account - using a Wada rule change that came into effect in March.
Italian rider Diego Ulissi got a nine-month ban in 2014 for having 1,920ng/ml in his test results, while compatriot Alessandro Petacchi was banned for a year for a reading of 1,320ng/ml in 2007.
"Maybe with the new rule of Wada [to account for dehydration], the result would have been different," said Lappartient.
"But we always have to judge the rider with the rules available at the moment and not to look 10 years after."
The UCI released a statement on Friday, denying Ulissi and Petacchi had received "unequal treatment" as their cases were heard before the UCI established its independent anti-doping tribunal in January 2015.
Previously the decision was in the hands of national federations and the UCI and Wada could then appeal against that ruling to the Court of Arbitration for Sport (Cas).
Wada and the Italian Anti-Doping Federation appealed after Petacchi was initially cleared, while neither the UCI nor Wada appealed against the ban given to Ulissi by the Swiss Anti-Doping Agency.
Froome boos 'linked to past doubt'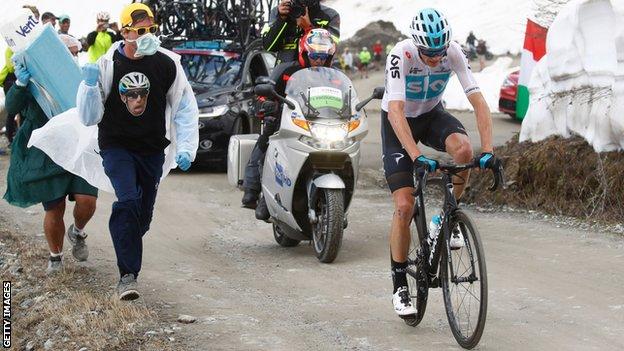 Lappartient told BBC Sport in March the UCI should investigate whether Team Sky broke anti-doping rules after a report by MPs said the team "crossed an ethical line".
When asked if he still felt that way, he said Team Sky have questions to answer and that he "wants to know what happened" with the package delivered to Sir Bradley Wiggins at a race in 2011.
Dr Richard Freeman, who ordered the medical package, reiterated to BBC Sport that it contained fluimucil, a legal decongestant. Team Sky and Wiggins deny any wrongdoing.
Lappartient said the ill-feeling shown by some spectators towards Froome - the Briton was jeered at a presentation event for the 2018 Tour on Thursday - was linked to "all this doubt about what happened in the past".
"Maybe it's a shame for Froome to receive these bad feelings from the fans, but it's true that when you don't have clear answers, that's always difficult," he said.
Lappartient again called on fans to "respect" Froome during the race but added he had no fears for the defending champion's safety.