John Archibald targets European Championships medal in Glasgow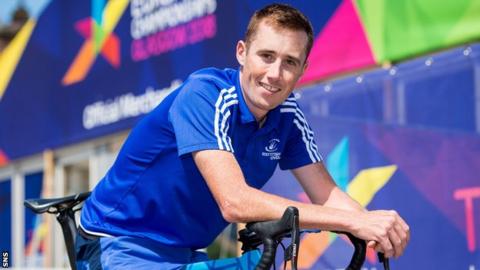 Commonwealth Games silver medallist John Archibald believes another medal at August's European Championships is a realistic goal.
The 27-year-old cyclist finished second in the 4,000m individual pursuit in the Gold Coast earlier this year.
And Archibald is hoping for selection to Great Britain's track team, with the Europeans being held in Glasgow.
"For me, it would be a great step up from the success I had at the Commonwealths," he told BBC Scotland.
"Pending selection, I'd hope to be up in the mix. GB aren't going to pick somebody that's not looking at medals.
"So the performance I did at the Commonwealths, getting the silver there and getting a time of four minutes 13 seconds [in qualifying] puts me in that ballpark of getting a medal.
"So, if all goes to plan and I do get selected, that would be the main aim."
The Games in Australia were his first and, although his silver may have surprised some, his rivals will be well aware now of what he can do.
"I never think it really helps, but it won't be hindering me," he said, acknowledging his higher profile.
"I'll be up for it and I think with the nature of the event I'm doing, the time trial, as long as you prepare your best and put in a performance on the day, it's only yourself to blame.
"I like that accountability. If I went all the way and did pull off a medal, people probably still would be shocked, but it would be a lovely goal to achieve."
Archibald's sister, Katie, will be in medal contention if she is fit to compete, having broken her collarbone in the Tour de Yorkshire in May.
She is already back in the saddle, though, and John is convinced she will take her place at the Sir Chris Hoy Velodrome - where she won bronze at the 2014 Commonwealth Games.
"She's hoping so," he said. "She's a world champion on the track, an Olympic medallist, she's got the world record in the team pursuit. She'll be in form and she'll be up for it.
"She's a bit of a crowd favourite and, though she has had a fair spill, something to recover from, hopefully she'll be fit in time.
"With it being in Glasgow, it would be special to have the home support."