Chris Froome: Anti-doping case against four-time Tour de France winner dropped
Last updated on .From the section Cycling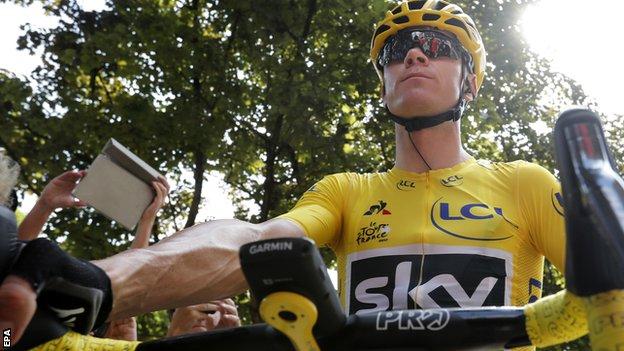 Chris Froome's anti-doping case has been dropped by cycling's world governing body, the UCI.
The four-time Tour de France winner, 33, was under investigation after more than the allowed level of legal asthma drug salbutamol was found in his urine.
The World Anti-Doping Agency (Wada), which worked closely with the UCI, has accepted there was no breach and recommended the case is dropped.
The Briton said he was "grateful and relieved" to put an end to the matter.
"It has been an emotional nine months," added Froome, who is expected to line up at the start of the Tour de France on Saturday.
"Thank you to all of those who have supported and believed in me throughout.
"I meant it when I said that I would never dishonour a winner's jersey and that my results would stand the test of time.
"I have never doubted that this case would be dismissed for the simple reason that I have known throughout I did nothing wrong."
Tour de France organisers had said Froome taking part could "damage" the race but now say the UCI's decision means there is no reason to prevent his participation.
Champion to 'focus on Tour de France'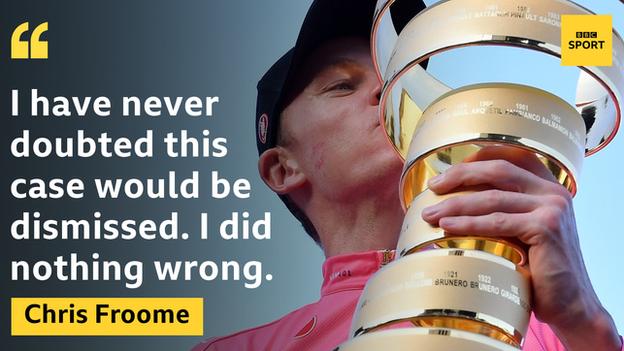 Froome's adverse result followed a test on 7 September, 2017, which showed more than the 1,000-nanogram per millilitre limit of salbutamol was in his system.
The substance - which Froome says is used to help manage his asthma - is permitted without the use of a therapeutic use exemption but only within certain doses.
Team Sky said Froome was only 19% over the limit - not double as has been previously reported - when the adverse test was adjusted to take account of dehydration.
They also claim 20 other tests conducted on Froome during his victory at last year's Vuelta a Espana did not need any "further explanation".
Team principal Sir Dave Brailsford said he always had total confidence in Froome's integrity and he was looking forward to helping him challenge for a fifth Tour de France.
"The same individual can exhibit significant variations in test results taken over multiple days while using exactly the same amount of salbutamol," Brailsford said.
"This means the level of salbutamol in a single urine sample, alone, is not a reliable indicator of the amount inhaled.
"Chris has proved he is a great champion - not only on the bike but also by how he has conducted himself during this period.
"It has not been easy, but his professionalism, integrity and good grace under pressure have been exemplary and a credit to the sport.
"The greatest bike race in the world starts in five days. We can't wait to get racing again and help Chris win it for a record-equalling fifth time."
'An important moment for cycling'
Tour de France organiser Amaury Sport Organisation reportedly did not want Froome involved in the race while his case was ongoing.
The adverse finding also prompted five-time Tour winner Bernard Hinault to encourage strikes during the race in protest against Froome.
But Froome now looks certain to challenge for a fourth Grand Tour win in a row following successes at the Tour and Vuelta in 2017, and this year's Giro d'Italia - equalling the record set by Eddy Merckx in 1972-73.
Another Tour de France win would also see him join Belgian Merckx, Spain's Miguel Indurain and Frenchmen Jacques Anquetil and Hinault as a record five-time winner of the three-week race.
"I am very pleased the UCI has exonerated me," Froome added in a statement.
"While this decision is obviously a big deal for me and the team, it's also an important moment for cycling.
"I understand the history of this great sport - good and bad. I have always taken my leadership position very seriously and I always do things the right way.
"I have never doubted this case would be dismissed for the simple reason that I have known throughout I did nothing wrong."
'I'm glad it's all over'
The NHS says salbutamol can relieve symptoms of asthma and though its use is permitted, Wada introduced dosage limits following concern over its increased use among athletes.
"I have suffered with asthma since childhood," Froome added. "I know exactly what the rules are regarding my asthma medication and I only ever use my puffer to manage my symptoms within the permissible limits.
"Of course, the UCI had to examine these test results from the Vuelta.
"Unfortunately, the details of the case did not remain confidential, as they should have done.
"I appreciate more than anyone else the frustration at how long the case has taken to resolve and the uncertainty this has caused. I am glad it's finally over."
Decision based 'on expert opinions'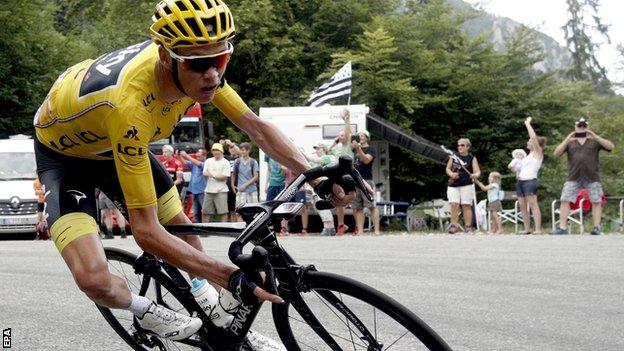 A UCI statement said that "on 28 June 2018, Wada informed the UCI it would accept, based on the specific facts of the case, that Mr Froome's sample results do not constitute an AAF (adverse analytical finding)" and "in light of Wada's unparalleled access to information and authorship of the salbutamol regime, the UCI has decided to close proceedings against Mr Froome".
The statement added: "While the UCI would have obviously preferred the proceedings to have been finalised earlier in the season, it had to ensure that Mr Froome had a fair process.
"The UCI understands that there will be significant discussion of this decision, but wishes to reassure all that its decision is based on expert opinions, Wada's advice, and a full assessment of the facts of the case."
Wada said it would not appeal against the UCI's decision to drop the case and explained: "Based on careful consideration of the facts, the agency accepts that the analytical result of Mr Froome's sample from 7 September 2017 during the Vuelta a Espana, which identified the prohibited substance salbutamol at a concentration in excess of the decision limit, did not constitute an adverse analytical finding."
It reached this conclusion after considering a number factors including "a documented illness", the natural variation of salbutamol levels in Froome's other samples and that Froome took "a significant increase in dose" shortly before the test, as Team Sky claimed he had on the advice of the team doctor, without exceeding the maximum permitted dose.
Wada regulations allow athletes to take part in a pharmacokinetic study - a controlled test of how a drug works its way through the body - to help them try to show how they exceeded the permitted level of a drug without taking more than the allowed dose.
But it said this was not feasible in Froome's case as it would not have been possible to "adequately" recreate the conditions in which he took the test in question.
'Massive relief for Team Sky' - analysis
BBC sports editor Dan Roan:
This will come as a massive relief for Team Sky. Had Froome been banned, the team's 'zero-tolerance' policy towards doping could have meant his dismissal, and potentially the collapse of the entire operation.
The result will be the source of intense frustration at the UCI, which pursued this case over several months, but which was ultimately advised by Wada that Froome's expensively assembled legal team had sufficient evidence to cast doubt on whether his sample was 'adverse'.
It will also be the source of some confusion that riders with lower salbutamol readings than Froome's - like Italian sprinter Alessandro Petacchi in 2007 - have served bans.
Many will be concerned at the time and money spent on this saga, the damage done to the sport's image while its number one rider was under such suspicion, and Wada's ability to uphold its rules.
There will also be worries about the reception Froome can expect from some fans on the roads of France over the next month's racing.