Dr Richard Freeman interview transcript
Last updated on .From the section Cycling
Dr Richard Freeman is the man at the heart of cycling's 'jiffy-bag' scandal.
He denies any wrongdoing over a mystery medical package given to Sir Bradley Wiggins after a race in 2011, despite allegations of the misuse of anti-inflammatory drug triamcinolone.
The former Team Sky medic has kept out of the public eye since pulling out of a highly anticipated appearance at the Department for Digital, Culture, Media and Sport (DCMS) parliamentary hearing into doping in sport in 2016, citing ill health.
He resigned from his role at British Cycling (BC) last year due to stress-related illness whilst he was part of a UK Anti-Doping (Ukad) investigation. He is now being investigated by the General Medical Council (GMC).
Freeman says he has now sufficiently recovered to be able to write a book, and to give his version of events in person for the first time since cycling's scandal began two years ago.
This is a transcript of his interview with BBC sports editor Dan Roan.
First of all, how are you?
"I'm very well, thank you for asking. Much better."
Are you fully recovered?
"I'm still receiving medical care and I've got a great deal of thanks to my consultant doctor. I went down to the select committee the day before but that's when unfortunately I had what the layman would call a breakdown, and it was the final straw. I did apologise to [committee chairman] Damian Collins and said when I was well I'd give oral evidence. I did also say that if I was able I'd give written evidence and I did actually give that, there are nine pages which is published."
It has been portrayed by some as an excuse for not giving evidence in person. You can categorically say it was the result of the stress you were under?
"I found the stress of this investigation, initially by the newspapers and then by Ukad very, very stressful and I don't think I want to talk a lot about it, but I think I say in my book it's something that we have to talk about. I suffered from a major depressive illness."
How tough was that?
"All I can say is to anybody who is suffering from depression, you've got to talk about it, tell your colleagues. I didn't tell anybody at either Team Sky or BC how I was feeling, I was just trying to cope, and then suddenly the final straw, and the final straw was actually going down to London before the House of Commons Select Committee."
That manifested itself in what way?
"The symptoms of a major depressive illness are global - you lose all your energy for life, you're no fun to be around, you can't sleep, you can't concentrate, you feel helpless, hopeless, worthless, guilty about all sorts of things and obviously you can have suicidal thoughts."
You had those thoughts?
"Yes. Yes."
Was that the result of feeling guilty? Or feeling like you had been hung out to dry?
"Neither of those, it was just a combination of mental stress, mental fatigue. At the time I didn't feel as if I was being hung out to dry and I still don't feel that I'm guilty."
DCMS committee chairman Damian Collins has said it is "disappointing" Freeman has told his story after refusing to speak to MPs.
British Cycling say they are "disappointed that Dr Richard Freeman has chosen to publish this book having refused to fully participate in our investigation into record keeping and medicines management...we hope publication confirms Dr Freeman's return to good health and therefore his willingness to now partake in the resolution of outstanding inquiries." Dr Freeman denied that he refused to co-operate or comply with the relevant authorities and said he didn't want his book launch to be "overshadowed" by what he sees as "BC attempts to discredit me into submission and silence."
He says he is now prepared to speak to the DCMS committee in person.
Why write a book?
I've always wanted to write a book about sports medicine in pro sport… I feel well enough now to write it. I'm now on a refresher course to go back into general medical practice… I couldn't have done that before, so I'm feeling a lot better and I thought the time is right. There are some very important messages I want to get across in my book, particularly that pro sport is unhealthy, and this is to help the amateur understand how to manage their own illness and injury.
The book is called The Line. Did you, Sir Bradley Wiggins or Team Sky ever cross the line?
"Never."
Did you ever flirt with the line?
"Never."
You weren't ever in that grey area that falls somewhere between the rules and cheating?
"Never. I was a doctor, so my prime responsibility was to the patient, it wasn't to the organisation, it wasn't to winning, whether it's at Team Sky or BC. I'm a doctor."
You never helped Sir Bradley Wiggins or anyone else at Team Sky to cheat?
"No."
And your ethics as a doctor were never compromised?
"Never."
You were never asked to compromise them?
"Never asked."
Wiggins was granted therapeutic use exemptions (TUEs) to take triamcinolone shortly before three major races - the 2011 Tour de France, his 2012 Tour win and the 2013 Giro d'Italia.
You applied for the three TUEs for Sir Bradley Wiggins. Many look at the timings and the very potent product - triamcinolone - and they have concerns. Were you abusing the TUE system?
"No, I was abiding by the TUE system. Being a doctor is a challenge. Being a doctor in sport has additional challenges, but we have the World Anti-Doping Agency code [which] has transformed sport and I applaud it and I abide by it. That has a TUE (system) which allows athletes when they're not well or they need medication, just like you or I might need medication, to be given it under approval, provided it meets three criteria. They are the three criteria I followed... and people say: 'Well why give it in front of a major race?' When I was in general practice I used to give it to students before they sat their A-levels, because that was their most important time of their academic career. I'd given it to people before driving tests, this isn't a recurrent medication, this is an additional medication for the treatment of allergic rhinitis - hay fever.
But it's a very powerful drug...
"It is..."
And isn't it meant to be used when someone is really ill? Wiggins was about to go and climb mountains. He surely can't have been that ill to justify such a drug at that time?
"That's where you've got to get into the mind of sportsmen. I've been to the Olympic Games - very different to a World Championships - and you get someone at the start of an Olympic Games and if there's something wrong with them or something potentially wrong with them they'd almost do anything. And it's never 'winning at all costs' but it's very different to a World Cup in cycling. So the Tour de France was his season's goal, it was the most important and it was well-known that he'd suffered from asthma for a long time... so he had a problem - a genuine medical need - and he was managing his allergic rhinitis as best he could on maximal treatment, but if it's out of control, it affects asthma and your ability to ride. He wanted help - I went to an independent expert to ask for help, nothing at all to do with Team Sky or BC, and got advice how to treat him."
And the advice was to use triamcinolone?
"Yes."
If you were in the same position again now, would you act differently?
"Unfortunately, on medical grounds, yes I would."
In what way?
"Because he still had allergic rhinitis, it was still an effective treatment, there was still a risk-benefit and that's all about informed consent. Triamcinolone is a potent drug but if you look at the product information leaflet there are side effects of it. You look at the ones for paracetamol, that has side effects, you can have blood disorders, rashes, all sorts. But for triamcinolone, there are appreciable side effects, so it's that risk-benefit analysis, informed consent and that's the discussion I had. So if he still had allergic rhinitis, I went to an expert and he said: 'Yep, he's on maximal treatment - antihistamines, nasal steroids, eye drops, his asthma is on the normal asthma medication but he's still got significant allergic rhinitis.' It's the most important - he's going to the World Cup in Russia or whatever, there are going to be a lot of grass pollen, tree pollen, whatever, and I got that advice, yes I would. But now I'd also advise him, because I treat a patient holistically, "there's a reputational risk here". There shouldn't be a reputational risk because Wada - by definition - if they've approved a TUE, it's not performance-enhancing - otherwise you shouldn't get a TUE.
If you had to make the decision again now you would be more cautious because of the reputational risk associated with that drug?
"Yes, because part of my concern is for the patient's whole well-being and I've seen a person under a lot of stress from the publication of this... and that's had an effect on his health so that has to be in the mix. I don't think there's any sportsman in any sport at the moment that would run the reputational risk of considering applying for a TUE for the treatment of allergic rhinitis, which is a pity and I think Wada should either make it clear - yes or no."
There seems to be so much opinion out there that this is performance-enhancing. You must accept that there are performance-enhancing qualities to that substance?
"I'm a doctor, I base things on science. I have no scientific basis one way or the other. I know it's got a lot of side effects, I know it's catabolic, I know it can metabolise muscle, it can decrease your immune system. Bradley came out of the Giro in 2013 with a chest infection, that's well-documented, I can talk about that. Did I think that was because I had decreased his immune system because of the triamcinolone? Potentially. So these are risks. It's a risk-benefit balance all the time, but with informed consent and patient preference - you've always got to take that into account as a doctor."
Your former colleague Shane Sutton (former head coach) said Team Sky used TUEs to get a gain. Was that the case?
"No."
He told the DCMS Select Committee that Wiggins' use of the drug was "unethical". Is that fair?
"You'd have to ask Shane Sutton that but I have a lot of sympathy for Shane Sutton. He worked for Team Sky… then he went into BC management, which in my opinion and others he perhaps wasn't best skilled at. So Shane has had a rough time."
But Sutton's called your application on behalf of Wiggins for triamcinolone "unethical". I thought you'd be angry with him for that?
"No, no. I think when people have been under a lot of stress, as I've been under a lot of stress, their perception can change. You mustn't forget that the practice of sports medicine is very different. If you go to your GP you don't expect your boss to be in the consultation, listening in. But in sport we practice something called the integrated performance health management and coaching model, where there are three people involved in every decision. So that's the athlete, which is my patient, the coach and myself. So Shane was involved in all those discussions. It was for the treatment of allergic rhinitis, so that does come as a surprise why he's said that."
Speaking earlier this year, Sutton disputed the idea he would have had full knowledge of the medication Wiggins was taking, including triamcinolone, saying: "I can't say I know a lot about Brad's use of it, either in competition or out of competition."
What do you think his motive is for saying it?
"I wish you could answer that. I want an investigative journalist to answer a whole variety of things, like who was the whistleblower, who has suggested various things."
The select committee said: "We believe, contrary to the testimony of Dave Brailsford, drugs were being used... to enhance the performance of riders, and not just to treat medical need... from the evidence received we believe the drug was being used to prepare Wiggins... for the Tour de France... not to treat medical need, but to improve his power-to-weight ratio ahead of the race... it does cross the ethical line." How do you feel when you read that?
"I've got a lot of respect for Mr Collins. It was a very difficult and prolonged investigation, it was doping in sport, not just Team Sky and the TUE, and he had medical information, but unfortunately he didn't have medical information from me or from Bradley Wiggins. Bradley Wiggins' weight-management plan was a long-term plan and when he was racing, well take the Dauphine example, he was at his race weight, so to say we want him to lose more weight… I personally always battled to keep a rider at their race weight."
So you reject that conclusion by the committee?
"I do, yes."
It also says that a well-placed and respected source had told the committee that Wiggins and others were using the drug out of competition to lean down beyond the requirement of any TUE. Was that true?
"Nonsense. Triamcinolone is a very important drug in sports medicine. In my clinical practice before I came to sports medicine I was what is called a muscular-skeletal physician and I used a lot of triamcinolone in the treatment of inflammation and not just in cycling - in athletics, football, rugby, rowing. It's a drug that's needed to manage muscular-skeletal injuries out of competition. In cycling you have an eight-day rule - you can inject it eight days before. If you inject it within eight days of the start of competition, you have to withdraw from the competition, so I have used triamcinolone out of competition for the treatment of muscular-skeletal injuries in all my professional sports and in general medical practice."
Just going back to in-competition use and the TUEs you would have required for that. Even if it's not cheating in terms of breaking the rules, do you accept looking back now that it's in some way compromising or a betrayal of Team Sky's ambition to be 'whiter that white'? Was it a mistake to take that moral high ground to such an extent?
"I wouldn't have joined Team Sky unless they had taken that moral high ground."
Did they live up to it though?
"I believe they did."
Are you sure about that?
"Yes."
How many TUEs did you apply for on behalf of Sir Bradley Wiggins, whether triamcinolone or any other substance?
"I can tell you that because I have his permission to talk about his asthma and his allergies and I only ever applied for three TUEs - 2011, 2012, 2013 - for the treatment of allergic rhinitis, aka hay fever.
There was an allegation in the report that he may have been treated with triamcinolone up to nine times in four years. Is that true?
"I have no idea."
Shouldn't you know as the team doctor at the time whether he was taking it to such an extent?
"Obviously doctor-patient confidentiality is important and I couldn't say it... denying it without breaching doctor-patient confidentiality, that's a very important question. It is bizarre, it's, it's incomprehensible."
He said it was a malicious smear attempt.
"Who said that?"
Bradley.
"Well I'd definitely agree with that without breaking any doctor-patient confidentialities. Yeah, that's exactly what I'd call it."
Another doctor at Team Sky, Dr Alan Farrell, told the Sunday Times he changed the team's Wada password after hearing that you wanted to apply for a TUE for Bradley before the 2013 Tour of Britain, in other words a fourth TUE. Is that true?
"No. We changed the password regularly because we were fearing hackers and whatever and it was just standard operating procedure."
Did any other colleagues at the time disagree with you over the application for those three TUEs for triamcinolone?
"There's always medical debate, and I don't think there's any harm in that, and there's medical opinion, and ultimately the patient has to choose the doctor who he feels most confident with, who he feels is most professional, most experienced, who consults widely, knows his own limitations. So yes, there's always discussion."
And was there discussion about those three TUEs?
"Yes."
And were you the only one who approved of them?
"No. There was debate about it, and people said there are risks-benefits."
Was the debate around whether it was performance-enhancing and effectively cheating?
"No."
It was more about the side effects?
"Yes."
The large quantity of triamcinolone that was delivered to the velodrome in 2011 - Ukad says it far exceeded what one rider would need. What was it used for?
"Treatment of patients."
Do you think that was appropriate use?
"Very appropriate use."
Was it through your private medical practice?
"Private's probably the wrong word. I was employed by BC four days a week, seconded to Team Sky and one day a week in my contract I was allowed to perform other clinical duties, so effectively I ran a sport and exercise medicine clinic, non-fee paying, for staff members, relatives, other members of BC. I provided a medical service and, this perhaps was wrongly... it was funded... those drugs were funded by the organisation, with the knowledge of the organisation. Dave Brailsford's come out publicly and said I gave him a triamcinolone injection in his knee."
Of the 55 vials - or ampoules - of the triamcinolone, can you give us any idea as to what proportion were for riders, or a rider, and staff?
"The vast majority for staff."
And the amount for riders would be, what, 10 vials?
"I can't go that far back, Dan, and think about it. But riders did need triamcinolone out of competition for the treatment of muscular-skeletal injuries, like in any other sport, so yes there were a few, a handful. I only administered it as a TUE to one rider."
But you administered it to other riders?
"Yes."
Ukad said they found no formal process or procedures in place to record the use of pharmaceutical products or supplies stored by BC at the velodrome. They said it was chaotic and disorganised, no filing system, papers piled up in cupboards, no back-up system, no evidence of supervision of doctors. It's pretty damning, isn't it?
"I fully admit that I didn't have a medicines management policy at that time. Subsequently I did. I had a medicines management policy ultimately before our illustrious neighbours Manchester City. They used the same consultant pharmacist that I used, so I did make huge improvements and I did ultimately end up with a fully electronic medical records system when money became available. But initially money wasn't available for those things, so I did my best. But I was an employee. I did ask on several occasions - the first one being in 2010 - to help with back-up of my computer to the IT department, which wasn't forthcoming. So, yes, I realise it could have been done a lot better, I disagree with 'chaotic'. If you ever go to a professor's study or office - believe me, it just means you're busy and you have a lot on, so to the outside person it may look chaotic but I knew where everything was."
Why no back-up system?
"Again, I did ask for my computer to be backed up but myself and [former Team Sky and BC head of medicine] Dr Steve Peters used Apple Macs. BC used PCs. There was a lot of jealousy between the two and they said we can't manage the Apple Mac."
Wasn't it Team Sky protocol to have a dropbox system where you backed up materials?
"The dropbox system was introduced for other purposes. The dropbox system was introduced by Dr Peters and myself to monitor the performance of doctors on the road... so I spent a lot of time monitoring what doctors were putting on dropbox but barely had time then to fill dropbox in myself, which I found very difficult because I'm quite IT inept, to my regret. It would have been a lot better if I had."
This doesn't tally with the reputation of Team Sky of attention to detail, leaving nothing to chance, marginal gains, does it?
"Yes, but 'marginal gains' didn't really come from the medical department. The marginal gains comes from the aerodynamics, it comes from the mechanics. Medicine is very different. Medicine supports the athlete to be able to perform at their maximum. I don't think the medical department is really a marginal gain department."
The theft of your laptop in 2014 has been portrayed by some as a 'dog ate my homework' excuse. Is that fair? Was there really a laptop stolen in Greece in 2014?
"Yes. A very violent robbery. A patio window smashed, the safe stolen, three days at a local police station in Santorini getting a police report for myself and my travelling companion. We had no passports, we were then transferred to another island - to Crete - we had consular assistance there to get back, we had a police report that was given to BC, I notified it to the IT department. I had a report from the IT department that the laptop was reported missing."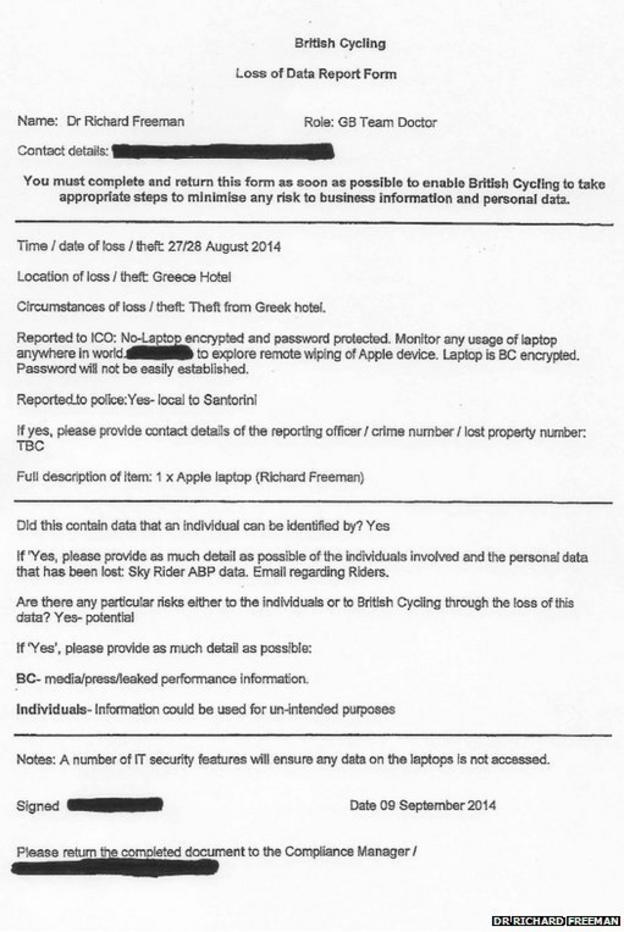 So the loss of data report form you have given us backs that up? If so, why has it taken so much time for us to receive that evidence?
"I received that information in a package of documents I was given from Ukad."
Do you see why some people have a problem with all this? There is Team Sky and BC claiming to be standing up for clean cycling and they can't even prove what was going in and out of the medical storeroom. Wasn't there a contradiction between what they boasted about and what the reality was?
"I kept very good medical records. My travelling medical records were kept on a laptop which wasn't backed up. I'm sorry about that, they should have been backed up, but they weren't. But my medical records at the velodrome were on paper and they were very full and complete so we had good medical records. But we didn't have a stock-taking system."
There are no medical records for the 'jiffy bag' though are there?
"That was during a race. Because I didn't have lots of paper everywhere and didn't have my files, I recorded it on my computer. When I got back from a race, important things I'd record in the medical records."
This infamous delivery of testosterone patches to the national velodrome in 2011 (as revealed by the Sunday Times in 2017). What can you tell us about that? Did you order it? Who was it for? Was it a mistake? Can you clear anything up?
"I can clear everything up but at the moment I am under investigation about my medicines management policy by the General Medical Council (GMC) and therefore I am not at liberty at the present time due to respect for them not to talk about it. However, once that inquiry is finished I will give you my word that I will talk freely and fully to you in an interview about the delivery of testosterone at the velodrome."
But no wrongdoing?
"No wrongdoing."
The BBC understands the GMC has been told the patches had been ordered, but were not intended for use by riders. The use of testosterone by athletes is banned at all times by Wada because it is performance-enhancing.
You are possibly the only man in the world who knows what was in that 'jiffy bag' that was delivered to France in 2011. Once and for all, on the record, what was in it?
"Fluimucil nebules."
Why get it delivered from Manchester? Why not buy something like that locally?
"Fluimucil nebulised solution isn't available in France on prescription. It's made in Switzerland, and they don't sell it in France... so I could not physically buy it in France, with or without a prescription. The confusion is the effervescent powder which is used to treat the common cold is available over the counter throughout Europe and is popular."
Where did you administer the fluimucil to Sir Bradley and when?
"I was administering fluimucil to Bradley, and obviously I can't say about other riders but you can imagine that one rider may not have been the only rider, throughout the race of the Dauphine and then I administered it again when we got to the training camp in Sestriere. I did not administer anything to Sir Bradley Wiggins on the bus at the Dauphine after the race."
Wiggins has also denied he was treated on the Team Sky bus.
Why the allegation then, do you think, that it was triamcinolone?
"You tell me."
Do you think that was a honest mistake by somebody? Or is it malicious?
"I'd like somebody to find out because it has caused damage. I don't believe it was to cause damage to me, I'm just the doctor. I'm a member of the support squad, I don't have a knighthood. Was it to damage Sir Bradley Wiggins? Was it to damage Sir Dave Brailsford? I think that's more likely. But why? I have no idea. And I look to journalists, I look to the DCMS, to find this out but I haven't got any answers."
The problem is, of course, that this could all be sorted if you could provide some evidence to back up the claim that it was fluimucil...
"But my main man back at the velodrome - [former British Cycling head physio] Phil Burt, who incidentally has a degree in pharmacology and knows a lot about medication - put the medication in the package, and sent it to me. Bradley Wiggins didn't know what was coming, Sir Dave Brailsford didn't know, why should they? That was a medical resupply, which wasn't unusual. Virtually every race I've been to I've had a medical resupply because the box that's arrived to me hasn't been restocked properly, someone's forgotten to add something. We were a logistics company as well as a medical department."
If it was as innocent as fluimucil, as you call claim, why do you think Brailsford came up various with inaccurate explanations (to the Daily Mail) in the immediate aftermath of that story? (Brailsford has since admitted being too hasty)
"Well, my obvious answer to that is you've got to ask Dave Brailsford. I do know him well, but I also know his second-in-command Rod Ellingworth very well. Rod told him something and Dave didn't check. And I believe it was Rod that made the mistake… that's my interpretation."
In response to this, a Team Sky spokesperson said: "These historical matters from 2011 have been the subject of extensive scrutiny and we have nothing further to add. All of our focus is on the Tour de France which start on 7 July."
Phil Burt and Simon Cope (then GB women's coach, and the man who delivered the package) both say they don't know what was in it. How realistic is that?
"Very realistic. We sent so many packages of medicine. We started recording them in 2012, and between 2012 and 2014 over 275 medications were sent overseas, and when you ask somebody six or seven years later what was in the package for that particular race, it's unsurprising. However, Phil Burt is a very intelligent man - he knows a lot about pharmacology and for goodness sake he would not send anything out that he felt uncomfortable with."
In March, Sutton called on Freeman to "tell the truth" about the jiffy bag, and said the doctor had told him Wiggins had been treated on the Team Sky bus at the end of the Dauphine.
Sutton says that you told him "Brad's been sorted" immediately after the Dauphine. Did you say that?
"No."
So he's lying? Or is he just mistaken?
"I hope he's mistaken."
Do you feel Sir Dave Brailsford should be responsible for this and is he fit to lead Team Sky going forward?
"He had nothing to do with this resupply of medication, it wasn't discussed with him, so I think it's unfair for him to take the responsibility for it. And yes of course I think he's more than competent, I think he's a very good leader of Team Sky."
Were you ever bullied in any way by Brailsford or Sutton, as was suggested by one anonymous source in the report, or put under pressure by them?
"When I first met Dave Brailsford he said to me 'I am never going to ask you to cross the line', which I didn't understand quite what that meant in cycling, but I do now and 'I expect you never to cross that line' and that never changed, and Dave Brailsford never bullied me. Dave Brailsford was very robust with me, very firm with me and we often disagreed and we had to almost argue but you have to stand up to Dave Brailsford, he doesn't suffer fools. Shane Sutton was different. Shane Sutton, when he was in the leadership role and as the UK Sport inquiry report said, there was a climate and a culture of fear. And indeed [anonymous testimony in the DCMS report states] that I was bullied by Shane Sutton. And yes, initially, I was a bit ashamed to say because nobody likes to say they're being bullied. Initially you try and appease a bully but then ultimately you've got to stand up to the bully, and that's what I did."
In response to this, Shane Sutton said: "I have always supported Richard through his many personal problems during his time at BC. I think you will find no reference to bullying in his book."
Were you bullied into giving medication that you didn't think was right?
"No, just bullied in lots of different ways. People sometimes are bullies, but I was never bullied to give medication by Shane Sutton."
Do you feel you have been made a scapegoat for all this?
"As Eisenhower said, the hunting expedition for a scapegoat, it's the easiest. Somebody was after somebody, and it came to me."
Team Sky rider Froome is bidding for a fifth Tour de France win despite awaiting a UCI ruling after double the allowed amount of salbutamol was found in a urine sample last year. Froome and Team Sky have consistently denied any wrongdoing.
Did you ever see anything Chris Froome did that was untoward and what do you make of the current predicament he is in?
"I think Chris Froome is an exceptional athlete. He's a man I've dealt with for many years, the last time being in the Rio 2016 Games, a great man of integrity and I admire his achievements. I think he's in a very difficult position, which I'm not going to comment on because that should remain a confidential process. I personally think the salbutamol dosage, the amount excreted in the urine, is a flawed procedure, a bit like the hematocrit was when it was introduced with a 50% cut-off, that was a flawed procedure. Wada are trying to help prevent abuse with erythropoietin by introducing the hematocrit but 5% of the normal population have hematocrit of greater than 50%. So they were doing their best and I could understand what they were trying to do with Salbutamol but I think there's not enough science there and I think he should be given an opportunity and I think it should remain confidential. This is also testament to him and to his mental resilience how he's managed to continue training and racing despite this."
Tramadol. (Former Team Sky riders) Josh Edmondson and Jonathan Tiernan-Locke have both spoken to me about its use. The suggestion from Tiernan-Locke was that in 2012 at the World Championships you were handing it out in some way. This is a very powerful painkiller. Did you ever abuse tramadol?
"I completely refute that. Tramadol is a potential drug of abuse, not just in cycling, not just in any sport, but in society. It's a problem. It's a very powerful painkiller, it has clinical indications and as I've said to you before I would only ever give anything for medical need."