Richard Freeman: Bradley Wiggins doctor had 'suicidal thoughts'
Exclusive by BBC sports editor Dan Roan & Patrick Nathanson
BBC Sport
Last updated on .From the section Cycling
The doctor at the centre of cycling's 'jiffy-bag' scandal has told the BBC he had "suicidal thoughts" as a result of the stress of an investigation into the controversy.
In his first interview since UK Anti-Doping (Ukad) launched its inquiry two years ago, former Team Sky and British Cycling medic Dr Richard Freeman said he suffered a "major depressive illness" before he was due to give evidence at a parliamentary select committee hearing in December 2016.
Dr Freeman denied any wrongdoing over a mystery medical package given to Sir Bradley Wiggins after a race in 2011, despite allegations of the misuse of anti-inflammatory drug triamcinolone.
However, he does admit that if given the opportunity again, he would "prefer not to" give Wiggins the powerful corticosteroid, and would advise him of the "reputational risk".
Dr Freeman also told BBC Sport:
He cannot prove his claim the 'jiffy-bag' contained a legal decongestant because a laptop containing medical records was stolen in 2014, but he now has a document from the time to support his explanation.

He denies the allegation in an MPs' report this year that Team Sky "crossed the ethical line" by using drugs allowed under anti-doping rules to enhance performance instead of just for medical need.

He "will clear everything up" over a delivery of testosterone patches to the National Velodrome in 2011, but that an ongoing General Medical Council investigation prevents him explaining how.

His record-keeping "could have been done a lot better" and he is "sorry" he had no back-up system.
'The final straw'
Dr Freeman has kept out of the public eye since pulling out of a Department for Digital, Culture, Media and Sport (DCMS) parliamentary select committee hearing into doping in sport in 2016, citing ill health.
He then resigned from his role at British Cycling (BC) last year, reportedly due to a stress-related illness while he was part of the Ukad investigation.
Dr Freeman - who was simultaneously employed by BC and Team Sky between 2009 and 2015 - said he was still receiving medical care but felt "a lot better" now.
"I went down to the select committee the day before, but that's when unfortunately I had a breakdown and it was the final straw," he said.
When put to him the downturn in his health was seen by some as a convenient excuse, especially given the imminent publication of a new book he has written, Dr Freeman said: "I found the investigation, initially by the newspapers and then by Ukad, very stressful. I suffered from a major depressive illness.
"You lose all your energy for life, you can't sleep, you feel helpless, hopeless, worthless, guilty about all sorts of things... you can have suicidal thoughts."
Asked if he had had those thoughts, Dr Freeman replied: "Yes. Yes."
Both British Cycling, and Damian Collins, chairman of the DCMS committee, have described Dr Freeman's decision to write a book as "disappointing".
But Dr Freeman said: "I feel well enough now to write it. There's some important messages I want to get across."
Dr Freeman has now quit sports medicine, and hopes to work part-time in general practice.
He says he is now well enough and prepared to talk to the DCMS committee in person.
The 'jiffy-bag' mystery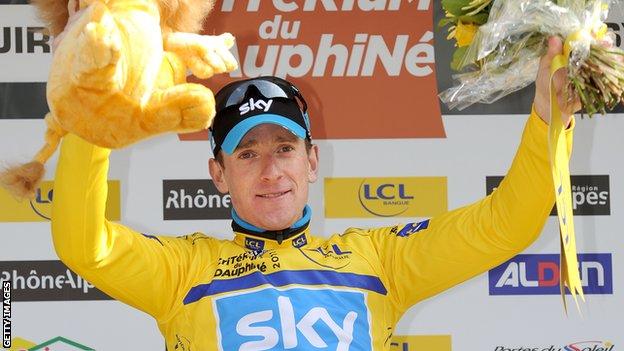 The Ukad investigation followed a story in the Daily Mail around the delivery to Dr Freeman of a medical product for Wiggins at the end of the 2011 Criterium du Dauphine.
Team Sky and Wiggins denied an allegation the package contained triamcinolone, a potent corticosteroid used to treat allergies and respiratory issues, which would potentially have resulted in an anti-doping rule violation and Wiggins being stripped of his 2012 Tour de France win.
Team Sky boss Sir Dave Brailsford informed the parliamentary committee Dr Freeman had told him the package contained fluimucil, a legal over-the-counter decongestant.
When asked what the package contained, Dr Freeman replied: "Fluimucil nebules.
"I was administering fluimucil to Bradley throughout the Dauphine and then I administered it again when we got to the training camp in Sestriere. I did not administer anything to him on the bus at the Dauphine after the race."
Email correspondence from May 2011 between Dr Freeman and French medicinal import authorities, provided to the BBC by Dr Freeman, includes Team Sky's Tour racing order form for the subsequent period in France.
The form details the medical products Dr Freeman was intending to bring into the country and includes entries for 45 doses of 'fluimicil' [sic] in nebulised form and 100 fluimucil tablets.
As to why the package was ordered from Manchester rather than sourced locally, Dr Freeman said: "Fluimucil nebulised solution isn't available in France on prescription. The confusion is the powder used to treat the common cold is available over the counter throughout Europe."
In response, Team Sky said: "These historical matters from 2011 have been the subject of extensive scrutiny and we have nothing further to add. All of our focus is on the Tour de France, which starts on 7 July."
The stolen laptop
The DCMS committee could not establish what was in the package, adding there was no "reliable evidence" to back up Dr Freeman's explanation.
Dr Freeman explained this was partly because his laptop - where medical records were kept on file - was stolen in Greece in 2014.
When it was put to him that some critics have dismissed this as a convenient excuse, he said it was "a very violent robbery".
"A patio window smashed, the safe stolen, three days at a local police station in Santorini. We had a police report that was given to BC and I had a report from the IT department that the laptop was reported missing."
Dr Freeman has provided the BBC with this document, published for the first time, which is a BC 'Loss of data report form' dated 9 September 2014. It states "1x Apple laptop" belonging to Dr Freeman and containing "Sky rider ABP [Athlete Biological Passport] data" was stolen from a Greek hotel on "27/28 August 2014" and that the theft had been reported to police in Santorini. It states the laptop was encrypted and password-protected.
According to Dr Freeman, he only recently received the form, after a Freedom of Information request to Ukad.
Dr Freeman admitted his record-keeping "could have been done a lot better" and he is "sorry" he had no back-up system, but rejected Ukad's criticism that his medical storeroom at the National Velodrome was "chaotic".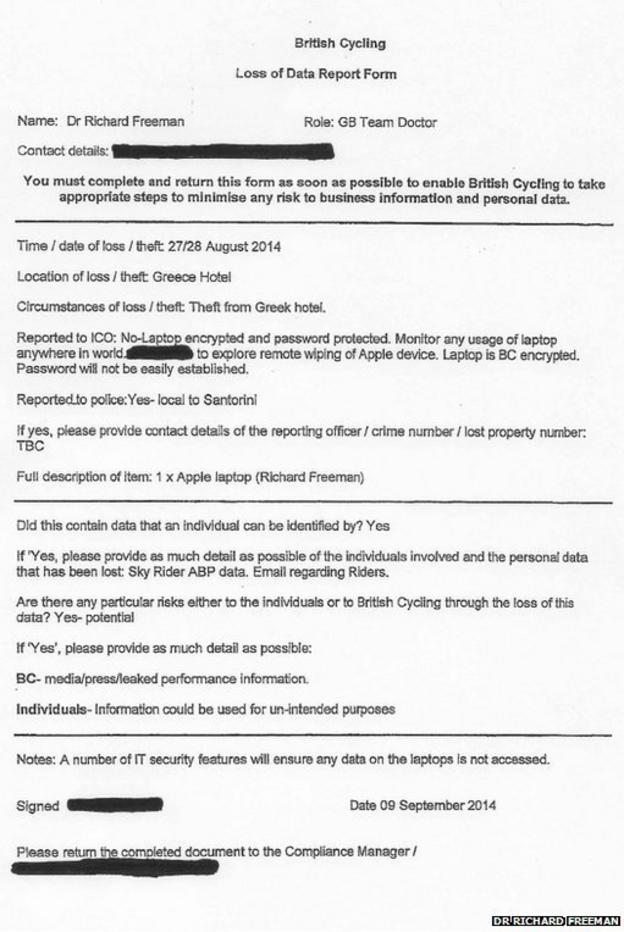 'My prime responsibility was to the patient'
The select committee's report said a "well-placed and respected source" had stated Wiggins and a smaller group of riders "were all using corticosteroids out of competition to lean down in preparation for the major races" in 2012.
Team Sky and Wiggins have strongly denied the suggestion they abused the therapeutic use exemption (TUE) system for banned drugs, and this was echoed by Dr Freeman, who called the claim "nonsense."
Wiggins was granted TUEs to take triamcinolone shortly before three major races - the 2011 Tour de France, his 2012 Tour win and the 2013 Giro d'Italia.
However, Dr Freeman - who applied for those TUEs on Wiggins' behalf - said: "I was abiding by the TUE system. My prime responsibility was to the patient, it wasn't to the organisation, it wasn't to winning."
When asked about the controversial timing of Wiggins' TUEs, Dr Freeman said: "When I was in general practice I gave triamcinolone to students before they sat their A-levels, because that was their most important time of their academic career.
"This isn't a recurrent medication, this is an additional medication for the treatment of allergic rhinitis - or hay fever.
"The Tour de France was his season's goal and he had a genuine medical need. I went to an independent expert for help, nothing at all to do with Team Sky or BC."
Dr Freeman added he only administered triamcinolone as a TUE to one rider, but "a handful" of others did need it out of competition "for the treatment of muscular-skeletal injuries".
'I would act differently now'
Dr Freeman said he would act differently if applying for such TUEs now, despite triamcinolone having been an "effective treatment" for Wiggins.
"Unfortunately, on medical grounds, I would [act differently]. Now I would also advise him there's a reputational risk here," he said.
When asked whether he would now decide not to give Wiggins the drug, Dr Freeman said: "I'd prefer not to, but I'm his doctor; sometimes as a doctor you have to do things that you don't particularly want.
"I don't think there's any sportsman in any sport at the moment that would run the reputational risk of considering applying for a TUE for the treatment of allergic rhinitis, which is a pity."
On his relationship with Sutton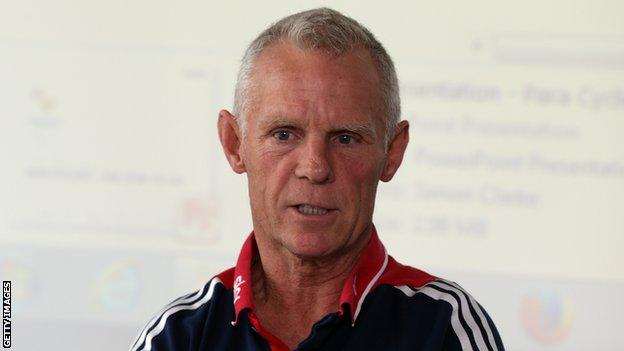 The select committee report also cites an anonymous whistleblower who said Brailsford and former Team Sky coach Shane Sutton had "put a great deal of pressure" on Dr Freeman, and that Sutton had "constantly bullied" the doctor.
Sutton succeeded Brailsford as British Cycling technical director but resigned in 2016 amid an investigation that ultimately found he used sexist language towards rider Jess Varnish.
"When I first met Dave Brailsford he said to me: 'I am never going to ask you to cross the line.' That never changed and he never bullied me," said Freeman. "Shane was different.
"Initially you try and appease a bully but ultimately you've got to stand up to the bully, and that's what I did.
"I was bullied in lots of different ways. But I was never bullied to give medication by Shane."
In reply, Sutton said: "I have always supported Richard through his many personal problems during his time at BC. I think you will find no reference to bullying in his book."
British Cycling issued a statement to BBC sport, saying: "We are disappointed that Dr Richard Freeman has chosen to publish this book having refused to fully participate in our investigation into record keeping and medicines management...we hope publication confirms Dr Freeman's return to good health and therefore his willingness to now partake in the resolution of outstanding inquiries."
Dr Freeman denied that he refused to co-operate or comply with the relevant authorities and said he didn't want his book launch to be "overshadowed" by what he sees as "BC attempts to discredit me into submission and silence."
Additional reporting by Jack Skelton.