Chris Froome's reputation 'unfairly tarnished' over anti-doping case - Lizzie Deignan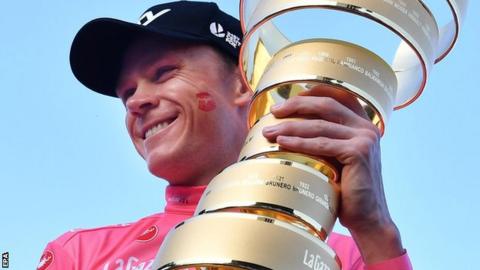 Four-time Tour de France winner Chris Froome has been unfairly treated in his anti-doping case and his reputation will always be "tarnished", says former world champion Lizzie Deignan.
Froome was found to have double the allowed level of a legal asthma drug in his urine after a test at last year's Vuelta a Espana - a race he won.
News of his "adverse" test was leaked before the process was completed.
"He hasn't had a fair process," fellow British cyclist Deignan said.
"People have made up their minds not based on the full story."
The test, taken on 7 September, showed levels of Salbutamol, commonly taken for asthma, were at 2,000 nanograms per millilitre (ng/ml), with the World Anti-Doping Agency's threshold at 1,000 ng/ml.
Froome was notified of the "adverse analytical finding" on 20 September, 10 days after the Vuelta - one of cycling's three Grand Tours - finished.
No other samples taken from Froome during the race needed further examination.
While his case continues, he is free to compete under the rules of world cycling's governing body the UCI and last month the 33-year-old became the first Briton to win the Giro d'Italia, which completed a Grand Tour hat-trick, following his Vuelta and fourth Tour de France win in 2017.
"Unfortunately for Chris his reputation is tarnished and will be forever," Deignan told journalist Orla Chennaoui on her 'When Orla Met' podcast.
"Whether he's innocent or not, it's kind of irrelevant to some people at this stage. A leak in a legal process should never happen."
Deignan, the former world and Commonwealth road race champion, also believes the authorities did not do enough for her when she missed three drugs tests in 2016.
The Briton, then known under her maiden name Armitstead, was suspended pending disciplinary action for missing the tests, putting her Olympic place in jeopardy.
However, a Court of Arbitration for Sport (Cas) appeal agreed the first test should be declared void.
"I felt really let down by UK Anti-Doping at the time - that they didn't publicly defend the fact I was tested within a day of both missed tests and obviously all my samples have proved negative," said Deignan, who finished fifth at the 2016 Olympics. "I've never doped.
"They haven't taken ownership or apologised or anything. You're still working with a system that is not even good. I think there's still a long way to go for them to be transparent themselves."
When contacted by the BBC, Ukad said it would not be issuing a response to Deignan's comments.