Owain Doull: Olympic champion sets sights on La Vuelta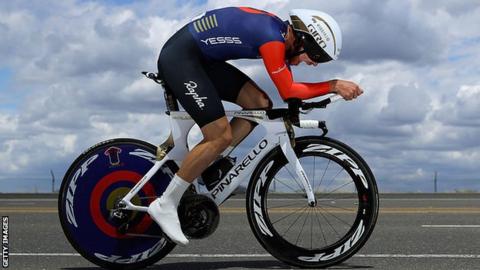 Olympic champion Owain Doull is setting his sights on competing in La Vuelta as he prepares for the Tour de Yorkshire.
The 25-year-old Welshman won gold in the team pursuit at the 2016 Olympic Games in Rio but could not compete in 2017 because of a burst appendix.
The Yorkshire race takes place from 3-6 May and the Team Sky rider hopes to use it as a stepping stone towards selection for La Vuelta.
"Now the goal is to get selected for the grand tour, La Vuelta," said Doull.
"This (the Tour de Yorkshire) is part of this process towards that, so a strong performance here will put me in good regard to hopefully get the nod into the team.
"It's been an up and down past year with my appendix busting, at the start of the year it had almost sent me to zero, but it's been over now and I've had a good start to the year."
Home advantage?
Team Sky have seven riders in this year's Tour de Yorkshire, four of which are British riders, and Doull believes competing on home soil helps motivate them.
"I'm really looking forward to it," said Doull. "Obviously with a British Team, Sky, it is a really big race for us, the first big race of the UK international season.
"I think about half the team is British so it's going to be special to ride in the UK, to have those crowds, because you feel like it's your race.
"When it comes to racing, a lot of teams look to Sky so we have to take responsibility, and with that pressure, but you get the added bonus of it being a home race so everyone is motivated."
It is the first time the race has been held over four days instead of three.